Best Non-Electronic Toys for Kids
UPDATED – December 2021
Having a hard time deciding what to get kids or grandkids for an upcoming holiday or birthday? With 15 Littles, I have often had that dilemma.
Do I get them a toy?
Give them money?
Or, do I get them the latest, greatest thing? (Whatever that is at the moment??)
And. . .for the record, it makes me crazy when I see them in front of a screen on a tablet or phone – ALL THE TIME! It seems that all their gifts revolve around this kind of technology. I want so much for them to experience the creative and imaginative side of life. I had such fun as a kid pretending to explore places I've never been (which is why I love the Little Passports subscription boxes) or to be a spoiled princess (well, okay. . .so that one isn't so far off from reality. Ha ha!) who lived in a palace (but that one IS a bit far from reality) .
Consequently, when I think of gifts for my Littles, I like to opt for non-electronic toys and activities. I tend to stick with things that are educational or will stir up their imagination. Kids get so much screen time these days, that it is hard to get them to do anything else. So, I opt for books, games or something run only on imagination power.
As a matter of fact, Nana's playroom is filled with all the good non-electronic toys. The playroom is filled with plenty to play with, but has almost nothing that requires batteries or is electronic. Everything in my playroom was put there to help the kids use their imaginations and requires them to interact with one another. Novel idea, right?
So in the spirit of helping the kids use their imagination and helping you to find a gift to support that, I put together this little list of ideas for gifts that are perfect for the kids or grandkids.
10 Best Non-Electronic Toys:
*This post may contain affiliate links. All this means is that we get a small commission at no additional cost to you if you click through to the product. Please see our disclosure page for more details.
Instant Blanket Forts
The very first non-eletronic toy I think of is a blanket fort! I think we all know that kids LOVE to build little hide-aways for themselves! And, yes. . .you can simply get out the tables, chairs and blankets, but we always have such a hard time anchoring the blankets so they don't fall off.
However, this little set up from Crazy Forts is amazing! It uses a system of sticks and little balls with holes to create the shell for the fort, then just add your own bedsheets and. . .voila! Instant fort! And, at this price, it's easy to ditch the table and chairs for something really cool that stores easily in a box. The added bonus is that your little ones will be using their engineering imaginations to get things set up.
It has 4.1 stars out of 5 on Amazon and even has a set that has glow-in-the-dark pieces!!
For added fun, you can add these cool little lights that attach to the balls inside the fort.  They have an auto shut-off feature after 20 minutes because. . .let's face it. . .kids don't remember to shut off anything!  And they stay cool so the little ones don't get hurt.
Wouldn't you have walked on hot lava for a cool fort with lights when you were a kid??
OR
Air Fort
Maybe you could try an Air Fort! These little forts are super easy to put up and they stay up with air created by a box fan. When you're done, simply shut off the fan, fold it all up, and tuck it away in a closet.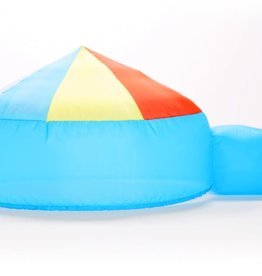 The grandkids will have a great time playing in this little blow-up hide-a-way. The fan sits behind a mesh wall so the kids can't get their fingers in it. It blows up in a few minutes and puts away just as fast.
Contraptions Plank Set
Look how cool this is! What is it that is so compelling about rolling a ball down a little obstacle course, watching it successfully reach the bottom, and then doing it all over again?? Keva makes this Contraptions Plank Set out of pieces that fit snuggly together – no need for tape, glue, etc., and the balls roll super smoothly down the track.
And. . .here's some bonus points for you – the kids don't even comprehend that they are developing engineering and problem-solving skills! Yessss! This set rates 4.6 stars out of 5 on Amazon and comes with an idea book, project photos, a few balls, and 200 pieces to build contraptions out of.
Fairy Gardens (or maybe Dragon Gardens)
This one is not classified under non-electronic toys, but it is a non-electronic activity. There are several fairy garden options for beginners. has several different sets to build your own fairy garden. Now, if you don't know what that is, let me sum it up for you – it's a small garden spot where you grow real plants and pretend fairies. Actually, some of the sets come with little fairies but most fairy gardens are set up with miniature houses and furniture, outdoor settings, or tiny yards for the fairies to live in. Remember the garden gnomes?? Well, this is way better than those dorky little guys and smaller!
(Well, there are these dorky little gnomes for the "fairy" garden. . .and they might appeal to the boys more. Check it out – they have dragons too! There's these cute little dragons or this happy little guy.)
Kids love little miniature things. . .awww, who am I kidding? I STILL love miniature things! This particular set in the picture is called Unicorn Paradise and even comes with a few seeds to get started with. Unicorns are all the rage right now!
However, if you are dealing with a child who is a bit older, they may like something a bit more sophisticated like this Fairy Garden Starter Kit however it doesn't include any plants or seeds. But both are great for beginners!
Fairy Gardens are a great way to teach the kids about planting and growing from seeds. We live in what I call a paper plate world – instant and disposable. These little gardens are neither. The kids will learn some patience and learn that some things need attention every day to grow. In the meantime, they can be building the little home or yard and they can change things up as the plants begin to sprout.
Wooden Race Track w/Cars
You may look at this little wooden race track and think that it is just too simple to be fun – just 4 connected ramps and 4 little wooden cars. Well, Papa and I bought one of these for one of the Littles several years ago. Why? Because we couldn't stop playing with it in the store!! Yes, it provides hours and hours and HOURS of fun! Honestly, I really don't know why. But kids (and apparently adults) will put these cars down the little track again and again!! The cars are really simple – no frills, sturdy, wooden, well put together. Not a lot of pieces and one of my favorite non-electronic toys. Love, love love this one!
Play Cash Register
This exact cash register from Learning Resources is part of Nana's playroom and has been from the beginning. The Littles use it when they play store, lemonade stand, farmer's market, restaurant, or yard sale (yeah, I've dragged them to a few yard sales and they LOVE it!). By far, it is THE most played with toy in the whole place! Sometimes, they will just play with the register and the money!
For the record, this one is a bit electronic, but it's tough to find a cash register that isn't.
Side Note:  The only angst I have is the paper money. It gets crinkled and ripped regularly. So, I figured out how to solve this. I am going to get another set of the money and laminate the bills.
(Tip:  You can take it to somewhere that does laminating or you could get a little personal laminator of your own. I love mine! I used to own a copy and print shop, so I laminate everything!!)
Here is the laminator I use – the Scotch brand is my favorite.  I use either the 3-mil laminating pouches or the 5-mil pouches (if I want a little thicker laminate.)
LEGO Building Book
This book is called LEGO Chain Reactions, and it's a Klutz Book. I don't know about you, but I love these little Klutz books. This is a great little book that gives a new spin for an existing set of LEGOs. If your Littles like LEGOs (and already have some), then they will love the new twist with these fun LEGO components and idea book.
It's pretty straight forward. It comes with an 80-page instruction book, 33 LEGO components, instructions for 10 modules, 6 plastic balls, string, paper ramps and other types of components to make 10 moving machines.
I suppose that LEGO's would be classified as the best of the best in the non-electronic toys category.
By the way, if you're interested in finding LEGOs or LEGO sets for cheap, then check out this post where I share all my secrets about finding LEGOs for less!
Road & Track Tape
This easy-on, easy-off tape is as much or more fun to put together than to use when it's done.  What am I talking about? This great roll of tape is used to build roadways and train tracks for little cars to run on. Because it's like washi tape, it comes off easily on pretty much all surfaces and doesn't leave any residue. There is nearly 50 feet of tape and has little road signs and even some curved tape pieces.
Hand Puppets
Playing with hand puppets might seem like it's becoming a lost type of play. However, I have learned the puppets are super popular in Nana's playroom. The Littles really like to bring the puppets to life by making them talk. They are always asking if they can do a puppet show. . .but they really like an audience. At heart, they must all be little showman. This set of hand puppets has moving mouths. If you couple it with a collapsible puppet theater, it's a big hit. I can't find the specific puppet theater that I have, but here are some other fun ones to consider.
Musical Instruments
I know that parents don't like "noisy" toys, but musical instruments need to be the exception. These ones are wooden so they're sturdy. We have lots of musical instruments in Nana's playroom. There are so many positive effects of listening to and playing good music. Even though what the kids play wouldn't make the "classical" category, it can instill a love of music and develop an interest in playing an instrument. Even though it's likely that you think these would only entertain little ones, just bring them out and see what the big kids do. 😉
A really fun and educational set of musical instruments are hand bells. Well-crafted and colorful, Merry Bells offers a set of hand bells and super easy-to-use music on DVD or individual sheets. (Ever play Guitar Hero?? The digital music is just like that. So. much. fun!)  Check out the Merry Bells website here.
Classroom Play Set
Again, not really classified under non-electronic toys, but imagination-powered activity. This is one thing I don't currently have in my playroom. However, as a kid, we played "school" pretty often. You would think that we would have gotten enough of that at our real school, but nope! We took turns being the teacher and the students. I remember as a student, I liked to give the "teacher" a hard time and think it was funny to do something that I would have NEVER done in school.
I notice that my Littles will go get paper, pencils, a chalkboard and chalk and even my whiteboard. They LOVE to play school. Often. I think it gives the kids a chance to teach each other and get a feel for what it is like to be in charge. This little Melissa & Doug Classroom Set is super cute! I love Melissa & Doug products – they are usually made a bit more durable than most toys.
What Are Your Favorite Non-Electronic Toys for Kids?
Well, that's my list! I really, really like things that are fun and/or creative. . .or both! So, what do you think? Do you have anything that you especially like that helps kids use their imaginations? Leave a comment below and tell us what your favorite creative ideas are for non-electronic toys. That way, we can build a list for everyone who stops by.
Cookies & Milk for Everyone!