This year, our Easter celebration is going to take on a new (and much needed) direction – a Finding Christ Easter Egg Hunt.
We love the bright spring colors, the bunnies, the candy, the baskets, and all the other fun things that come with the Easter season. We especially love that it marks the end of endless days of gray skies and dreary, cold weather.
Springtime is a renewal and a great way to "wake up" and get moving again. Our annual NanaPapa Easter Egg Hunt seems to be just the event to get everyone jump started and energetic for outdoor activities.
Since we have been focusing more on our improving who we are and what kind of example we want to set for our grandchildren, we decided to make a slight change in our Easter celebration without sacrificing all the fun that the grandkids like so much.
Finding Christ Easter Egg Hunt
I thought that this year would be a great time to introduce a new element into our annual egg hunt. In a nutshell, the kids will do their regular egg hunt with candy and small toys inside the eggs. However, there will be one egg in the group that is empty except for a small piece of paper and a white cloth.
Here's what you will need:
5 Hiding Places for the clues. . .
*IMPORTANT: The hiding places need to be where the children will be able to find them and are familiar with. For instance, if you decide to use a pair of reading glasses for the first clue, then make sure they are put in a place where the children know you usually keep them, but. . .not on your head. Ha ha!
For the Last Clue, you will need: A picture of Christ or the acrylic Christ name cutout (mentioned in this post or see the bottom of this scavenger hunt) or some other item that you want to represent Christ. Try to make it something different than just a regular piece of paper with the word Christ written on it. Make it something special. Put it on the page in the Bible with John 11:25-26.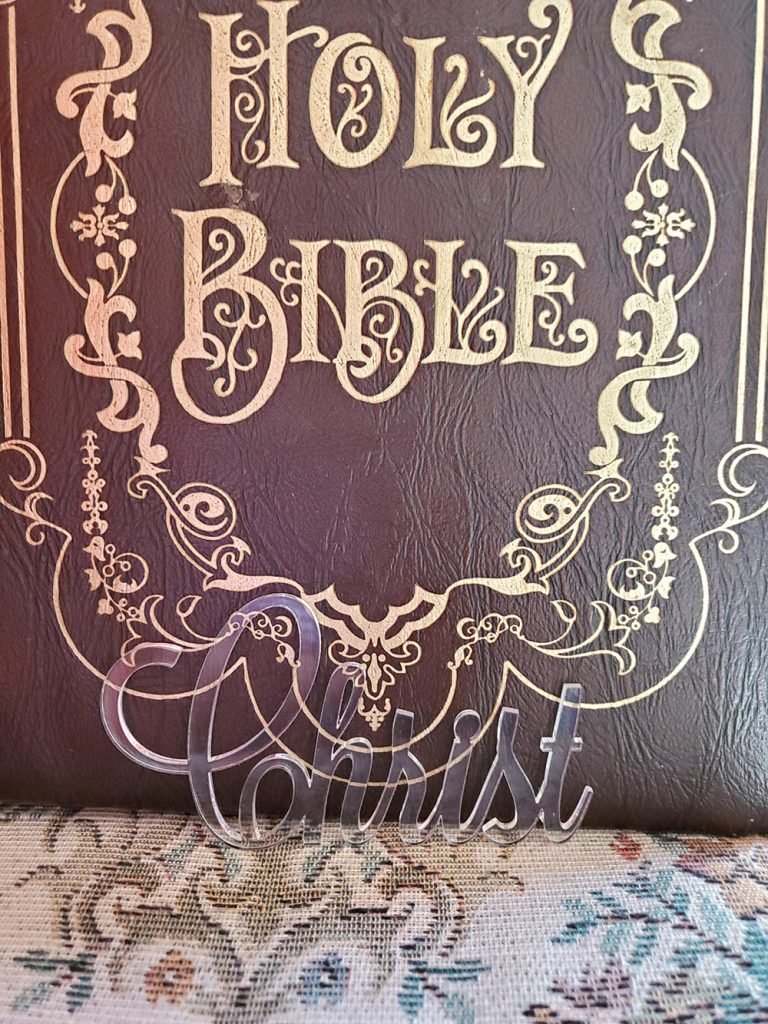 Cut out each clue and decide where to best hide them. If any of the clues don't fit your circumstances, there are blank clue cards where you can write in your own clues.
Hide the paper clues ahead of time including the one in the plastic Easter egg.
Put the picture of Christ or acrylic name cutout or whatever you're using inside the Bible.
Read the story of the Resurrection and be prepared to talk to the kids about it.
To Start the Finding Christ Easter Egg Hunt
When the children discover that there is one egg that is empty except for a white piece of cloth, you can sit them down and read them the following verse from Luke:
Luke 24:12 – Then arose Peter, and ran unto the sepulcher; and stooping down, he beheld the linen clothes laid by themselves, and departed, wondering in himself at that which was come to pass.
At this point, you can talk about what Peter saw and why. Talk about the resurrection of the Savior. Talk about how after that, the disciples remembered Jesus' words and wondered if they would see him again.
Jesus was not in the tomb anymore. It was empty. Do you think Jesus' disciples and the others were kind of sad? They probably wanted to look for their friend, don't you think?
Clues:
Clue #1 – Have one of the children read the message on the small piece of paper from the egg:
This egg is empty just like the tomb. Let's see if we can find Jesus.
We know that Jesus can help us to have a clearer vision of our lives. Think of something that helps us to see more clearly.
Clue #2 – (with the glasses)
Jesus gives us a group of wonderful people to help us and love us just as He does. Can you find a picture of this special group of people?
Clue #3 – (with the family picture)
Jesus shows us the "path." He helps us "walk" in the ways of goodness and right. When we walk places, we wear these to protect our feet.
Clue #4 – (with the shoes)
Jesus heals all wounds and can comfort us when we are in pain. He is also our protector.
When we get hurt, sometimes we need something to help fix our cuts and scrapes and can help to heal us. Can you think of something to put on your wounds that helps it heal or protects you?
Clue #5 – (with the Band-aids)
We've discovered a lot of ways that Jesus helps us every day. He is there for us and can do all things. Do you see Him in your life every day? If you wanted to find Him, where would you look? Think of the best place to read about Jesus Christ and His life and mission here on earth.
Finding Christ in our Daily Lives
At this point, hopefully the children will find the Bible and finally find Christ. Talk about the different ways that Christ shows up in their lives every day for them – to help them see more clearly, to help them walk in better ways, to help heal their wounds, to comfort them, and to protect them.
Passing on our faith to our grandchildren is one of the greatest gifts we can give them. And. . .it doesn't hurt to make it a little fun also.
Get Your Own "Hidden" Christ Name Sign
P.S. Would you like your own Acrylic "Hidden" Christ Name sign? They are not just for Christmas. You can use these all year round to have Christ in your home where others can seek Him.
These clear Christ name signs measure 3″ x 5″ and are made from clear acrylic. They fit beautifully among the decor in your home. You can encourage others to seek Him or simply allow them to discover Him. (See the photos below to get an idea of the size.)
If you look at the photos below, you can see how they "hide" in plain sight. Yet, beautifully, the name is revealed and easy to see when the light hits it. Not a coincidence.
We are making these available here on our website here. If you purchase 5 or more, you'll get FREE shipping. (Otherwise shipping is only $2.99)
Click the button below to see more details and get your own sign cutout: