St. Patrick's Day is one of those silly fun holidays that we don't take too seriously, and we love to play and have fun with! So, I thought I would share a few St. Patrick's Day activities that we are doing with the grandkids this year. We have a yummy hot chocolate recipe (well more of the easy, throw together kind), a fun "magic" activity, a tricky Leprechaun book, and a cute cootie catcher with some silly kid jokes.
**UPDATED: March 2022**
So let's get started! First things first. . .
Simple Hot Chocolate to Make with Grandkids
Hot chocolate is a staple in our house all year long. From the cool summer mornings (especially when we're camping) to those snowy December days, we love hot chocolate in all it's splendor! I can't think of a flavor that isn't welcome with open arms in my kitchen.
St. Patrick's Day is still in the middle of the winter-ish season in our neck of the woods. So, one of our favorite St. Patrick's Day activities that we like best is making hot chocolate. We want to share a couple of our favorite hot chocolate recipes with you.
We start with an 8 oz. cup of our favorite hot chocolate and add lots of goodness for just the right taste. . .
Yummy Mint Hot Cocoa
This is the perfect combination of chocolate and mint. And since March is Girl Scout Cookie season, top it off with some whipped cream and a Thin Mint cookie!!
Add about ½ tsp. Vanilla
Add 1 drop of *Peppermint extract
*Be careful with the peppermint on this one! Peppermint extract is super strong!! I usually make a 16 oz. (or double cup) just to make sure the peppermint doesn't overwhelm the taste.
Add a dollup of Marshmallow cream – Mmmm! Mmmm!
For a super smooth tasting cup of hot cocoa, try this Irish Creme delight. . .
Nana's Cinnamon Roll Cocoa (yeah, it tastes like a cinnamon roll in a cup!)
Add about ½ tsp. Vanilla
Add as much Irish Crème coffee creamer (liquid or powder) to make it as strong as you want
Add just a shake or two of Cinnamon! Oh my!! (If you've never tried the Saigon Cinnamon, now's a great time! It's a bit sweeter than regular cinnamon and tops off this cup with cinnamon-y sweet goodness!! Once you've tried the Saigon Cinnamon, you won't want to go back to the regular stuff!)
Now that you have some yummy hot chocolate, we want to share some St. Patrick's Day activities with you! After all, isn't that how we build a relationship with those little people? Spending time together? Of course it is!
St. Patrick's Day Activities to Share with Grandkids
We have a few grand ideas to share with your grandkids! There is a fun book to share with the kids. A cool, cootie catcher to download for free. And a scientific-ly fabulous activity!
T'was the Night Before St. Patrick's Day
This is a really fun book to read! It follows the same rhyming pattern as T'was the Night Before Christmas with a "green" twist to it. Ted and Maureen are two kids who plan to catch a Leprechaun this year. But what do you think they discovered when they heard a "clatter" from their bedroom?"
You can find the book, T'was the Night Before St. Patrick's Day at Amazon
OR. . .read along with a
YouTube Video from StoryTime Now
!
St. Patrick's Day Cootie Catcher
So we couldn't resist making this cute little cootie catcher for you to share with the grandkids. It's decked out for St. Patrick's Day with lots of "green" jokes for the kids. Download the St. Patrick's Day cootie catcher for FREE! Just click on the picture to download a PDF file.
Magic Rainbow Rocks
One of our favorite St. Patrick's Day activities to do with the grandkids is easy, fun and really peaks the kids' curiosity about how it works. It does take a small bit of prep, but it's worth it.
At our house, I explain to the kids that a silly, mixed up leprechaun came to my house and hid his magic rainbow rocks with some hidden treasure inside. I hide them around the yard (or in the house when the weather isn't cooperating). I only make enough for each of them to have just a few.
The recipe to make this is simple, so if you just want the measurements of each component, skip this next part and jump to the bottom. But for those of you who would like a small tutorial, I put one together just for you!
I like to make a rainbow of colors. This recipe makes 4 large or 8 small "rocks." I make the large ones so I can hide gold plastic coins inside each one.
Ingredients (per color):
½ C. Baking Soda
2 T. Water + a few drops more
Food Coloring

Instructions:
Put the water into a bowl and add food coloring. I found that 3 drops usually makes a nice dark pastel color. If you want a more intense color, add a few more drops. Mix the color in well.
Add the baking soda.
Mix the baking soda in with the water. It's kind of hard to mix but make sure it's not too wet. If it is, it will melt all over when you try to set it out to dry. However, if it is too dry, it will not hold together. So, play with it a bit. You may need to add another drop or two of water at this point.
When it is the right consistency, so it holds together and is not too wet, make little "rocks."  I put one of those little plastic gold coins in the middle. I gather up some of the baking soda, lay a coin in the middle, and form the rock around it. I mold and squish and mold and squish.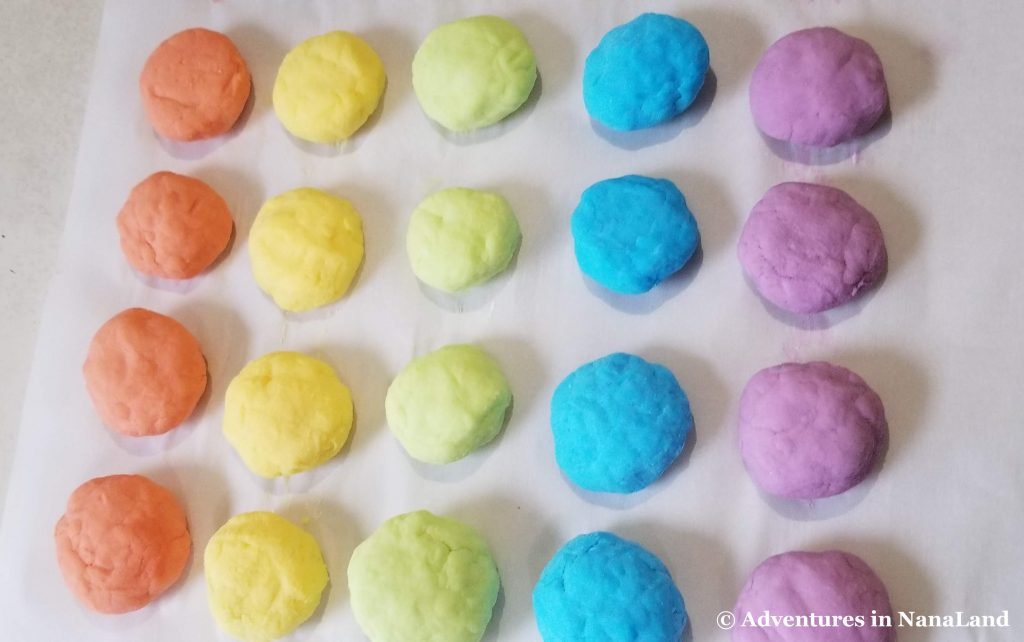 After the rock is formed, lay it on some wax paper or parchment paper. Just know that the color will leak onto whatever you lay them on; so make it a throw away.
Let dry for about 24 hours. I turn them over about half way through.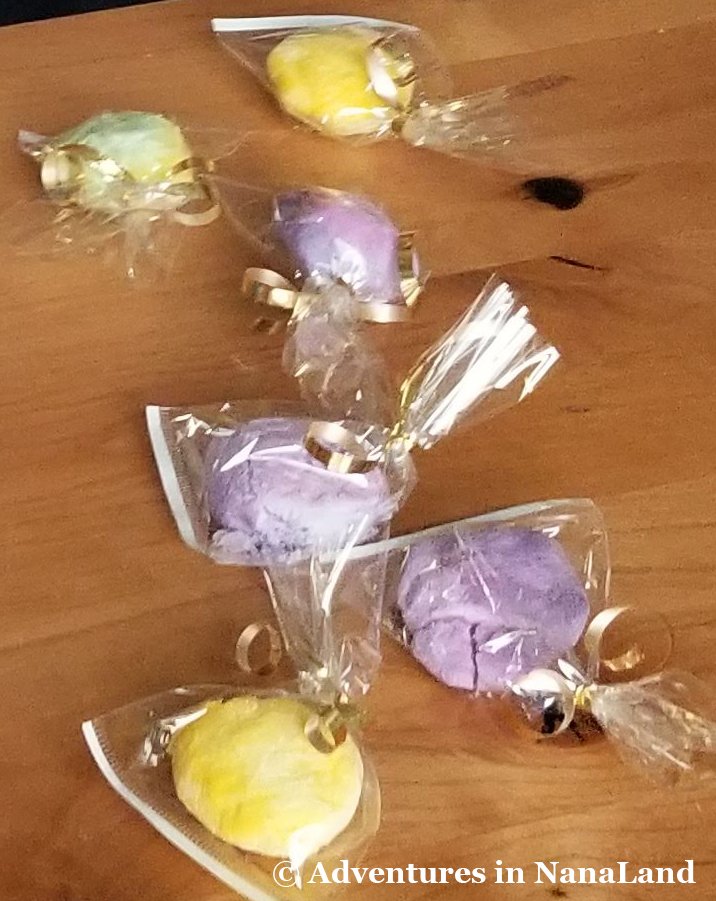 Just take note that even though these are now hard, they are VERY, VERY brittle and will break easily!! For this reason, I put each one into a little plastic bag and tie up snug just above the rock with a gold tie. This is not totally necessary, but as the kids find them, they inevitably will break one or two. (You can see that in the picture.) If they are in the bags, they will pretty much stay together until the next step.
The Activity:
For this part, you will need some paper bowls and vinegar. As you can see, I re-labeled my vinegar as "Magic Leprechaun Juice." 😉
Hide the rocks around the yard (or around the house). Give each of the kids a bowl (again I use paper) to gather their rocks in. After everyone has gathered up their rocks, pour some "magic leprechaun juice" (a.k.a. vinegar) over the rocks in their bowl. . .and watch their reactions – the kids and the rocks!
The rocks will bubble and foam up and the gold coins will appear in the bowl. I just LOVED the reaction from our smallest Little. He kept looking in the bowl saying "Oooo! Ooooh!!" The other picture is our "Curious George." He loves simple science experiments. . .not quite as much as his mom, though. He keeps her on her toes "experimenting" with all kinds of things at their house!
If you have older grandkids, you can end this activity by asking them if they understand what ingredients would make this kind of reaction. It's a simple science experiment, and the kids feel so smart when they figure it out.
Maybe your grandkids are like my Littles – They are kind of adventurous! So they had tons of fun playing with the baking soda mixture left in the bowls. One of them said it was kind of like slime. . .
After adding the contents of his brothers' bowls to his own, another one of the boys announced that his looked like Leprechaun Ice Cream. LOVE those silly Littles!
This activity is easily adaptable for other uses. It's great for an after school activity to do some science exploration, or maybe some fun afternoon activity at your Grandma Camp, or even try adapting it to another holiday. Get your creative on!
Please don't leave without sharing with us what your favorite St. Patrick's Day activities are to do with your grandkids! Leave a comment below and share with the rest of us your grand ideas!!
Cookies & Milk for Everyone!