Disneyland with Grandkids –
Disneyland Ride Height Requirements
***2020 UPDATE: Disneyland Ride Height Chart updated for both new attractions in Star Wars Land!
Traveling with the grandchildren isn't always easy. As a matter of fact, the only thing that is certain on a trip with kids is that absolutely nothing is for certain! However, it's definitely worth it! If you want to make traveling with grandkids a bit easier, we have a few tips that should ease your anxiety. Check out our 15 Tips to Make Traveling with Grandkids Easy Peasy.
Today, I've partnered up with my wonderful friends at Get Away Today to help take some of the guesswork out of one of the most vacations you could take with the grandkids – DISNEYLAND! With the help of the expert travel agents at Get Away Today, you'll know important things ahead of time, like Disneyland ride height requirements, where to find them within the parks, and more.
Disneyland Ride Height Requirements
The good news is that there are a number of rides and attractions in Disney California Adventure Park that do not have any height requirements. So you can bring even the littlest of grandkids into Disney California Adventure and have them experience some of the magic. For Disney California Adventure Park rides and attractions with no height requirements, try the following with the grandkids:
Disney California Adventure – No Height Requirements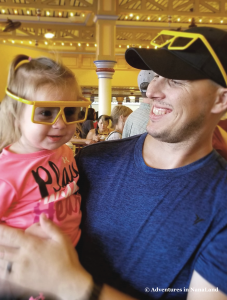 Redwood Creek Challenge Trail

Animation Academy

Monsters, Inc. Mike & Sulley to the Rescue!

Sorcerer's Workshop

Turtle Talk with Crush

Golden Zephyr

The Little Mermaid ~ Ariel's Undersea Adventure

Toy Story Midway Mania!

Pixar Pal-A-Round  – Swinging and Non-Swinging Gondolas

Jessie's Critter Carousel (opening April 2019)
Within Disney California Adventure, there are a number of rides that do have height requirements you will want to be aware of. Hopefully this list will ensure you don't promise one of your Littles an experience that they end up being too small for!
32 inches or taller
Luigi's Rollickin' Roadsters

Mater's Junkyard Jamboree

40 inches or taller
Jumpin' Jellyfish

Guardians of the Galaxy – Mission: BREAKOUT!

Radiator Springs Racers

Silly Symphony Swings (tandem swings only)

Soarin' Around The World
42 inches or taller
Goofy's Sky School

Grizzly River Run

Redwood Creek Challenge Trail (rock wall and zip line only)
48 inches or taller
Incredicoaster

Silly Symphony Swings (ride in single swing)
On top of knowing which rides your grandkids are tall enough to ride, you'll want to consider if they're ready for each ride. For example, the Guardians of the Galaxy – Mission: BREAKOUT! ride includes dark moments, loud music and giant drops. While we like the rule of trying out every ride once, it's important to know if your grandkids have any fears or uncertainties that may mean they'd have a better time not riding.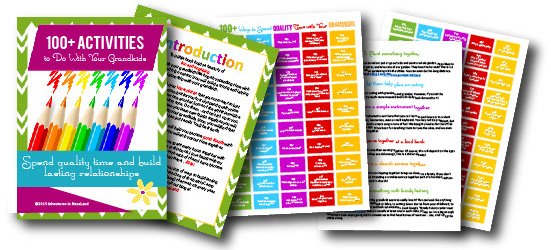 Want to spend more quality time with your grandkids? Get our 100+ Activities to Do with Your Grandkids and never run out of ideas!
It's FREE! Download it today!
Disneyland Ride Height Requirements – Disneyland Park
Again, there are a number of rides, attractions and shows in Disneyland Park that have no height requirements. Depending on the ages of your grandchildren, they may love some of the following Disneyland attractions with no height requirements:
Disneyland Resort – No Height Requirements

Jungle Cruise

Tarzan's Treehouse

Walt Disney's Enchanted Tiki Room

The Many Adventures of Winnie the Pooh

Haunted Mansion

Alice in Wonderland

Casey Jr. Circus Train

Dumbo the Flying Elephant

"it's a small world"

King Arthur Carrousel

Mad Tea Party

Peter Pan's Flight

Pinocchio's Daring Journey

Finding Nemo Subarmine Voyage

Storybook Land Canal Boats

Snow White's Scary Adventures

Mark Twain Riverboat

Roger Rabbit's Car Toon Spin

Pirates of the Caribbean

Astro Orbitor

Buzz Lightyear Astro Blasters
Many of the rides above are dark rides, which take place in carts that move through all kinds of scenes. Some of the rides include scenes that could be scary to some ages, like the Haunted Mansion or Pinnochio's Daring Journey attraction.
And keep in mind that the following Disneyland attractions do have height requirements. Some require small children to be accompanied by an adult, which will be noted below.
32 inches or taller
Autopia (must be accompanied by a rider 54 inches or taller)
35 inches or taller
38 inches or taller
Millennium Falcon: Smugglers Run (new Star Wars Land)
40 inches or taller
Big Thunder Mountain Railroad

Space Mountain

Splash Mountain

Star Tours

Star Wars: Rise of the Resistance (new Star Wars Land)
42 inches or taller
46 inches or taller
54 inches or taller
As you can see, there are a lot of options in the Disneyland Resort for your grandchildren, no matter their size. And with the opening of Smuggler's Run in May 2019 and the January 2020 opening of Rise of the Resistance, there are even more rides in Disneyland now.
Just a note about the 2 new Star Wars rides:
I was a huge skeptic because I hate when things are over-hyped and then you feel disappointed when you actually experience it because it turns out to not be as great as the hype. Well, these rides are NOT a disappointment! Both of them are experiences as well as an actual ride.
As a matter of fact, don't take Smuggler's Run so serious that you miss the hilarity of having an inexperienced pilot make a total wreck out of the Millennium Falcon. We had a 3-year old piloting and it was an absolute riot!! On the other hand, the more seriously you take the Rise of the Resistance, the more you will get out of that experience. Just keep your little ones close as they may be a bit frightened at first.
Also, during the holidays in Disneyland, additional overlays and attractions are available; if you visit the Disneyland website, you can see a list of what is open on specific dates. This is a great resource to help you customize your Disneyland trip with the grandkids and be prepared for any ride closures or additions during your dates of travel. Come April, you'll have to check out Jessie's Critter Carousel, and perhaps even the new bowling alley in Downtown Disney, Splitsville Luxury Lanes. 
Book with Get Away Today
If you want to surprise the grandkids with a visit to Disneyland, then book now with Get Away Today! You are never penalized for booking early, and doing so can help ensure you'll get the best hotel options for your group, as well as the best deals. You can even take advantage of their interest free Layaway Plan. If you have questions, you can view Get Away Today's vacation packages online, or give their travel agents a call at 855-GET-AWAY. When you book, let them know Adventures in NanaLand sent you, and use my code, NanaLand, to get an additional $10 in savings on your vacation package.
Even though the Disneyland ride height requirements are in the Disneyland app, we thought that maybe you would like an "at-a-glance" version to print out. So, here you go! (Just click on the link below the graphic to download the PDF)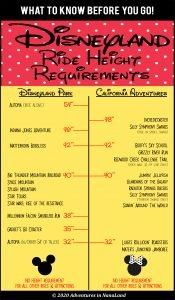 Disneyland Ride Height Printable
Cookies & Milk for Everyone!

P.S. Do you need some tips for keeping the kids entertained in the car? Check out our post on Traveling with Grandchildren!