A Christ-centered Easter – Creating Religious Easter Traditions for Families
When it comes to Easter traditions that we share in our families, "Do we celebrate the Bunny or the Lamb?"
I saw this question in a store window last week. It got me thinking about how I have presented Easter to my grandchildren. Don't get me wrong. I love the cute little bunnies and coloring eggs with my Littles. However, this question got me thinking about what religious Easter traditions I have passed on to my family. Religious celebrations are a great way to build lasting family relationships and leave a legacy of faith for our grandchildren. What greater gift could we give?
Symbols of Easter Traditions
So, I decided to research these two symbols of Easter. Here's what I found:
Bunny – Since rabbits are known for their "energetic breeding", the bunny symbolizes new life. In connection to that, so the eggs also signify new life. The advent of Spring brings new life to nature – trees, plants, flowers, etc. – often accompanied by all types of new animals being born. . .new life.
Lamb – The lamb has long been a religious symbol of Easter, because Jesus is often referred to in the Bible as the "Lamb of God." In the Jewish Passover, a lamb was a sacrificed and in turn became a symbol for Jesus' sacrifice. Many Christians across the globe traditionally eat roast lamb as an Easter tradition. . .even the Pope!
After reading about the "bunny" and the "lamb" symbols, I suppose you could create the argument that either one could be celebrated as a religious Easter symbol. However, I think that we get an overload of non-religious fluff at Easter. I would like to suggest that you create a new Easter tradition for your family this year.
*This post may contain affiliate links. All this means is that we get a small commission at no additional cost to you if you click through to the product. Please see our disclosure page for more details.
Creating New Religious Easter Traditions for Families
I would like to share with you a few things that we are doing in our home this year to create a religious Easter tradition for our family that is all centered around the "Lamb."
He is Risen, Rocks Tell the Story of Easter – Book
Okay, so this book is anything but traditional. However, it is so creative and tells the Easter story of Jesus so simply that it's perfect for small children. . .well, maybe big kids too, because I really LOVED it!! It's a great way to discuss the Easter story with your youngest grandchildren.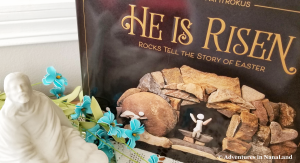 When asked why she used rocks, the author simply said, "Why would I be surprised that the rocks He made want to tell His story?" Indeed! The rocks testify of His great work and His glory. I was looking for something that was a quick and easy way to tell the Easter story. He is Risen – Rocks Tell the Story of Easter, is definitely one to share with the Littles, and it's so easy to understand.
My very favorite page is the one with all the rocks that look like hearts!! I have a "heart" rock that one of my Littles gave me last summer. It's super special to me!
New Easter Tradition for Families – Idea #1:
You could read the story together and then go outside and see if you could find some rocks to re-create one of the pages in the book.
---
Resurrection Rolls – Recipe
You are probably familiar with the Resurrection rolls. It is an Easter tradition for families that tells a story all on its own! There are so many on Pinterest and Google that it felt horribly redundant to put yet another version on here. So, instead, I am linking to my favorite version of these Resurrection Rolls mostly because of the simplicity of making them with the grandkids.
If you aren't familiar with what Resurrection Rolls are, let me briefly explain. You layout the rolls, put a large marshmallow inside, smush the sides together, and bake them. When the rolls come out of the oven, the marshmallow has completely melted into a yummy, gooey, sweet goodness inside the roll. Since the marshmallow can no longer be seen, but the roll has baked around it, it looks as though the roll is hollow. When you break it open, there is nothing in the middle; thus looking like an "empty tomb." And, because they are sweet, they make a wonderful breakfast roll or dessert.
Note: If you want to do the Easter activity that goes with the Resurrection Rolls, Jen from Yummyhealthyeasy.com, shares that with you along with the recipe. It would make for a fun dessert activity after dinner.

New Easter Tradition for Families – Idea #2: Recipe
My DIL's family uses this idea for their Easter dinner. However, they only make one of the rolls with the marshmallow inside, and save the other rolls for dinner. Just fill them with a yummy chicken mixture (see below). It will surely be a crowd-pleaser for your Easter dinner!
So, why make ONE with the marshmallow? Well, at dinner, whoever gets the "empty" roll, gets to tell the Easter story. (Then, of course, have an extra dinner version of the roll for the person telling the story. 😉) I have included the recipe for the Easter Dinner Chicken Rolls below:
Easter Dinner Chicken Rolls
Makes 16 Rolls
Preheat oven to 350°
1 Package of Cream Cheese (8 oz. package – softened)
4 Tbsp. Butter (or margarine) – melted
1/8 tsp. Pepper
2 C. Shredded Chicken (can be rotisserie or from a can)
4 oz. Can of Mushrooms (optional) – drained
2 Cans of Crescent Rolls
Butter (1/4 Cup)
1 Cup Bread Crumbs
Chicken gravy
Instructions:
Mix cream cheese and butter together well. Add pepper and chicken (and mushrooms if desired) and mix well.
Separate crescent dough into 16 triangles. Place up to ¼ cup of chicken mixture on each triangle. Roll the dough from the large end towards the small end and pinch the edges together to seal chicken mixture inside.
Dip the rolls in the melted butter and roll them in the bread crumbs.
Bake for 15-20 minutes until brown. Serve with chicken gravy.
This recipe is super easy peasy! It only takes about 15 minutes to put all this together and then it cooks for about the same. As a matter of fact, it isn't only for Easter at our house, it is great for an easy, fast weeknight meal.
---
Easter Walk – Book & Activity
This is another book that I read a few years back. The activity in the book is great for a stroll after dinner or even in place of an Easter Egg hunt. (I'm afraid there would be mutiny at our house if Nana and Papa didn't do their Annual Easter Egg hunt. Oh well. . . what are ya gonna do? Traditions!)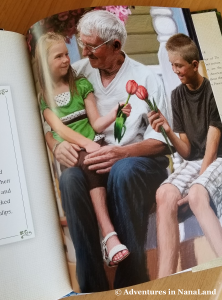 This book has beautiful illustrations! It's a very touching story about a grandfather that takes his grandchildren on a walk to find the true meaning of Easter. He uses scripture clues to have the children try to find symbols that represent parts of the Easter story. I loved it so much because the storyline was about a grandfather teaching his grandchildren. It's a wonderful Easter tradition to start with your own grandchildren this year!
This inspired me to make an Easter walk of my own for my Littles. You can do it too! Below, I have included the scripture verses that are used in the *story (with an exception, see my note below). If you want to get the book, you can order it here through Amazon or check your local bookseller. (Unfortunately, it's out of print, but they still have a few left. But when they're gone, they're gone. I have found it at several used book sites. Just search it in Google.) Get the book if you can, but if not, here is the activity:
New Easter Traditions for Families – Idea #3: Easter Walk – Book & Activity
This is a perfect time to talk to your grandchildren and express your love for and what it means to have faith in the Savior, Jesus Christ. You can leave a legacy of faith and inspiration to those precious children who will certainly need that strength as they grow up in an ever-challenging world.
"And they clothed him with purple, and plaited a crown of thorns, and put it about his head. . ."
– Find something pointy and sharp to represent the crown of thorns that was placed on Jesus' head.
"And he bearing his cross went forth into a place called the place of a skull, which is called in the Hebrew Golgotha where they crucified him, and two other with him, on either side one, and Jesus in the midst."
– Find something made of wood. This represents the cross.
"And when Jesus had cried with a loud voice, he said, Father, into thy hands I commend my spirit: and having said thus, he gave up the ghost."
– Find something dead to represent Jesus' death. (Remember that this can be anything that was once living, including plants.)
"And it was about the sixth hour, and there was a darkness over all the earth until the ninth hour.  And the sun was darkened, and the veil of the temple was rent in the midst."
– Find something dark (in color) to represent the darkness that covered the earth.
"And he bought fine linen, and took him down, and wrapped him in the linen, and laid him in a sepulchre which was hewn out of a rock, and rolled a stone unto the door of the sepulchre."
– Find a round rock (or something else hard) to represent the stone that was rolled in front of the tomb.
"And the angel answered and said unto the women, Fear not ye: for I know that ye seek Jesus, which was crucified. He is not here: for he is risen, as he said. Come, see the place where the Lord lay."
– Find something living to represent that Jesus was resurrected and lives today.
*Note: In the book, Easter Walk, the author used a verse from The Book of Mormon, so I substituted it with a comparable verse from the Bible. Even if you don't share the beliefs of those from the Church of Jesus Christ of Latter-day Saints (a.k.a. Mormons), you may find it fascinating to read this account of the death of Jesus Christ from the perspective of the Ancient Americans who tell the story of their dealings with God and Jesus Christ in The Book of Mormon.
Jesus going to visit people in another land is referenced in the Bible when Jesus says: And other sheep I have, which are not of this fold: them also I must bring, and they shall hear my voice; and there shall be one fold, and one shepherd. (John 10:16) It is interesting to note that in the Americas, after the 3-hour destruction and turmoil, they experienced darkness for 3 days! It must have been terrifying for them! However, the darkness was lifted when the resurrected Savior appeared to them and testified of His divinity. It is an interesting account that serves as another witness of the Savior and His mission here on earth. If you would like to read it, I have linked to the verses online here and above. If not, just use the Bible verse.
---
Easter Quotes & Prints
Having religious quotes or scriptures around your home will help create the atmosphere you are looking for this Easter. So, start a new religious Easter tradition by adding some of God's word to your décor. Download these Easter prints here:

New Easter Traditions for Families – Idea #4
Whether you have grandchildren close or far away, you can start a new tradition by sending one of the printables (download prints above) to them with your statement of faith written in your own handwriting on the back. Before you mock me and tell me that it won't mean anything to them, let me tell you about my own grandmother.
My grandmother wrote down most of her life history in a couple of notebooks. This grandmother and I were not very close as we lived hundreds of miles apart and weren't able to forge a close relationship. However, those notebooks are one of my most cherished possessions! I have gotten to know my grandmother in a way that we weren't able to while she was alive. She talked much about her faith and trust in God and her dedication to Him. I draw so much strength from her now. You will be able to give strength and hope to your grandchildren in the same way . . . even after you're gone.
One More Tradition. . .
Okay so this one is not specifically religious. But, if you are like most families, you like to take pictures. We sure do! However, it seems that most of our pictures hang out and party inside our phones. They never see the frames or photo albums. Can you relate? Yep! I hear that from soooo many people!
But. . .we found a really cool solution! This year, we are getting a Nixplay Digital Photo Frame. Now, before you dismiss it as just another digital picture frame, listen to this. . .it has Wifi! (Can you hear the angels singing??) I'm so super excited about this! And they're not ugly either. There are a few sizes and styles to choose from. So, certainly there is one that fits every home decor.
A good friend of mine told me that her family got one for her grandmother who is in her 80's. The grandmother just couldn't figure out how to pull up pictures and videos on her phone or re-watch them after the initial time. (Tech can be tricky for our more mature family members. 😉) So, the family members now send their photos right from their phones straight to grandma's Nixplay Frame. My friend told me that it's such a sweet surprise when her grandmother gets pictures from events that she can no longer attend. And. . .there are so many family members sending pics, that grandma gets new photos almost daily!! How sweet is that??
What a great way to celebrate! We always take so many pictures around the holidays. Our annual Easter egg hunt is no exception. I would dare say that taking photos of kids running around finding and filling their baskets with brightly colored eggs ranks right up there with the most common of Easter traditions for families. So, I think I will throw that in there, not as a NEW tradition, but as a time-honored one – take more pictures. . .and send them directly to one of these awesome digital photo frames!!
This season, try starting a new Easter tradition by passing on a legacy of faith to your family. Oh sure, you can still have the bunnies and pretty little pastel eggs – after all, those are time-honored Easter traditions for families year after year. But remember to talk about what that bunny and eggs really represent. Talk about new life and new beginnings because of Jesus Christ and His atoning sacrifice for us all. Don't be afraid to start a religious Easter tradition for your family of talking more of Christ and bringing Him into the season when we celebrate His life and resurrection!
Happy Easter!
Cookies & Milk for Everyone!

P.S. Please leave a comment and share with us how you bring Christ into your Easter celebrations. We would LOVE to hear about it!!