**Updated: February 2021 – FREE Valentine's Day Printables Packet added**
Hopefully, you are not one of those people who needs an excuse to say, "I love you." However, Valentine's Day IS a great excuse to show those around you how much you care. Valentine's Day usually focuses on the romantic relationships in our lives. That's all fine and dandy, but we're going to stray off that beaten path. I want to help you give some attention to the other love in our lives – our grandchildren (or children if you are not quite there yet.) with some Valentine's ideas for kids.
For the love of our precious little ones (or big ones), I have brought together 10 Fantastic Valentine's ideas for kids. You can do these things for or with the little people in your life who you want to share your love with.
10 Fantastic Valentine's Ideas for Kids:
1.  For the Love of Mystery – Scavenger Hunt
This scavenger hunt is a bit different as it just has things that we often relate to Valentine's Day and just lists them as things to look for. This means that you can "hunt" everywhere and anywhere to find them.
This is fun to play with grandchildren over video chat. Have them find the things around their home and then bring them to show you what they found. OR You can show them places around your home and they have to yell, "I FOUND IT!" when they see something that is on the list.
*You'll find this printable in the free Valentine's Day Printables Packet below.
2.  For the Love of Showing It – Give Them a Heart Attack
Cut out hearts from white, pink and red paper and write notes of encouragement or love. Then tape the hearts all over the child's door. At our house, we call this a "heart attack." It will make them feel sooooo special.
This works really for those teenage grandchildren. If the kids live far away or you're not able to go to their home, just make the hearts and send them to their parents to put on their bedroom door. Make sure you have at least one heart that tells them it was from you.
3.  For the Love of Putting it in Writing – Love Letters
Write letters of appreciation, gratitude and love to show your grandchildren just how much they are valued. A letter like this can be a light in the darkness when that child gets older and is feeling down. Or, maybe your grandchild is a teen now and could use a little encouragement from you. You never know; it may save their life. . .It happened in our family.
This is a great excuse to send some snail mail that kids really love. . no matter how old they get!
4.  For the Love of Dancing – Dance Party
At our house, we have a fabulous turntable to play vinyl records on – yes, actual "licorice pizza!" (I'm not sure how old you have to be to understand that phrase. 😉) We LOVE it and so do the Littles! When my husband's father passed away, we inherited his collection of old 33's, 45's & even some 78's. Then I bought a few Disney records at a thrift store.
The Littles ask for us to put on the old records and they dance their little hearts out! It's so much fun and a great way for you to sneak in a little exercise. Plus, it gives us a way to share a little from our own past. Win-win-win!!
5.  For the Love of Serving – Random Acts of Love
Don't just tell them; show them! You could do little acts of service for your grandchildren. If they live close, you could go make them breakfast, make their bed for them, bring them a yummy lunch to school, or whatever might let them know you are thinking about them.
If they live far away, play a game or watch a show with them long distance. This will show your grandchild that you will take time for them. . .even across the miles. You could also send some kisses like this one from Glued to My Crafts – her mailed kisses are perfect for your long distance grandkids on Valentine's Day!
6.  For the Love of Reading – Valentine's Day Bookmarks
If you have some bookworms on your Valentine's list, bookmarks are super easy to make and give – even if you are sending them long distance. There are also so many ways to make them. It might be fun to make the bookmarks with the kids or just make some for them.
Here is a super easy, cute idea from Lovebugs and Postcards – just take a paint swatch strip and make it into a bookmark
7.  For the Love of Rockin' It – Painted Love Rocks
What is it about rocks that kids love so much?? Even the teens love them! I recently saw some rocks that were painted super simply. Just dip your thumbs in red paint and imprint them on a flat-surface rock in the shape of a heart. Draw a face on the heart and then some arms and legs with a sharpie. Do this with or for your grandkids!
Even if your grandchildren live far away, each of you can gather supplies and paint while you chat during some video time. Even the little ones don't need a lot of supervision on this one. . .as long as the paint is washable, right?
8.  For the Love of Food – Rice Krispie Treats (Heart-shaped, of course!)
Rice Krispie treats are so easy and always a crowd pleaser! They don't take much time. they can be embellished with any color of sprinkles. You don't have to worry about serving them hot or cold. They look cute when wrapped in pretty cellophane or a clear gift bag.
And. . .at our house, they can easily be made "Jack-friendly" (My grandson, Jack, has 36 different food allergies! So, "Jack-friendly" is our way of saying "allergy-friendly!") – meaning that they are generally easy to adapt to work around food allergies.
9.  For the Love of God – Inspire Them!
Use one of these faith-promoting printables to give your grandchildren something that will remind them that they are loved and important to you and God.
*You'll find this printable in the free Valentine's Day Printables Packet below.
10.  Last but not least. . .For the Love of Telling Them!
Take more opportunities to tell them that you love them. Sometimes we just need to hear that we are loved.  Whether it is in person, on the phone, in a text, or on a video, say it! Don't ever miss a chance to say, "I love you!"
We Love to Share!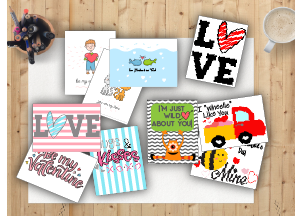 As if that wasn't enough. . .I am sharing some free printable valentines with you to give to your grandkids. I don't know
about you, but I don't want my valentines to be the same as the ones they are getting from all their friends at school. I want them to stand out a bit. So, I created 3 sets of valentines to capture the hearts of all the kids in your life.
And let's not forget your significant other. I even created a set that looks a little more grown up so that you could give something simple along with a sweet service or words of appreciation to the sweetheart in your life. I am really into the buffalo check thing right now. The red and black lend to creating a different but bold look for Valentine's Day. It's a bit of a break from the frilly, lacy, pinky stuff.
As mentioned above, the inspirational, scripture prints are there too! I put them all in the packet below.
There's one more thing I'd like to share! Here is a printable that you can frame to remind your long-distance grandchildren how much they are loved and missed. Yes, it's in the Valentine's Day Printables Packet too!
If you have some fun Valentine's Day Ideas to share, PLEASE leave us some suggestions in the comments below. We would love to hear what you are doing this Valentine's Day!!
Cookies & Milk for Everyone!