Planning a Schedule for Grandma Camp
Before we get started here. . .I just want to say that you can make this as big or as little a deal as you want. However, if you are like me, you want to go all out to make this a memorable time for the grandkids. Hence why did a whole separate post on planning a schedule for Grandma Camp.
So, get your "WHY" together so that when it seems a bit overwhelming, you will keep moving forward.  So, do you want to know my "WHY"?? Because,  I want to be the "fairest Nana in all the land."  (Just kidding. . .well. . .wait a minute, maybe that IS my real reason for doing this. 😉)
*This post may contain affiliate links. All this means is that we get a small commission at no additional cost to you if you click through to the product. Please see our disclosure page for more details. 
Awesome! It's decided then – you're going to hold a camp for the grandkids! You'll need to set up a timeline or schedule for grandma camp to get it all together. Once you have an idea of what you want to do, you can dig into the details and plan the final steps. But for now. . .
You will need to line up what you are going to be doing during your camp days. Your outline of activities or agenda for each day will depend on how you answer some of the questions you need to ask yourself before you get started. You can find all the things you need to think about first in Grandma Camp: Where Do I Begin?
­­­­Here are the elements that go into a two-day schedule for our grandma camp. I have included some explanations of what we did and why.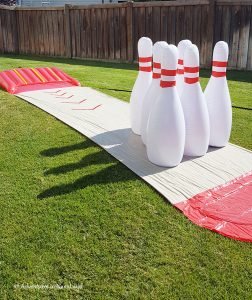 Opening the Day (5-10 minutes) – this is where you talk about what is going to happen that day and what is expected. For us, the first day is our Opening Ceremonies. Every day after that, we go over this stuff just before breakfast.
Breakfast (30-45 minutes) – As mentioned, we don't do breakfast on the first day, but every day after that. You may not need this much time if you keep the meal super simple and don't have a lot of kids.
Breakfast Clean-up (15 minutes) – This is part of the meal routine. I have kitchen helpers assigned for each meal. I team up big kids with little kids for this one. The helpers get to wear the special lanyard and badge that identifies them as Nana's helpers. I post the schedule of helpers each morning. You can use disposable items to make clean up quick and easy.
Get Ready for the Day (20 minutes) – This is where we fold up bedding, get dressed, brush teeth and hair, and put clothes away. This part takes some creativity as the kids are ready to play and don't really want to do anything that resembles work. I usually will set a timer and tell the kids that the next activity will begin when the timer goes off. However, no one can do the activity until everyone is finished getting ready. It's also fun to play fast music instead of using a timer. Be creative!
Activity/Craft Time (2-2 ½ hours) – This can look like several different activities or crafts or be one long activity or craft. This is the time of day when you will have their attention the most. The day is still fresh and they are rested and fed. So, use this time to do whatever thing would require the most focused attention.
Lunch (30 minutes) – Depending on what morning activity you choose, will depend on what kind of lunch you have. I like to keep lunches very simple. Outside is usually the best option for us. If we are out and about, we just pack it all up in brown bags. I use the lunch kitchen helpers to pack the lunches.
Lunch Clean-Up (15 minutes) – Otherwise, if we are at home, my kitchen helpers will help clean up the outside and put things away inside.
Activity/Craft Time (1 – 2 hours) – Flexibility is key for these afternoon activities when putting together a schedule for grandma camp. The little ones may need naps. Morning routines or activities may have taken longer than planned. Or, it just may be that everyone is slowing down a bit. For this reason, it is good to plan an activity that either just involves older children or one that can be conducive to laying the small ones down for a rest. This can also be a great time for just some reading with the kids. You can combine a story hour with a little down time.
Play Time/Free Time (1 – 2 hours) – The cousins are going to want some time for just free play together. So, we either plan a trip to the local park or just play at Nana's house in the backyard. We like to pair some water with this as it keeps the kids cool and happy. Because we do our camp during the summer, we make sure that we have plenty of water bottles/drinking station and sunscreen on hand.
Dinner (45-60 minutes) – Dinner prep begins while the Littles are still playing. I call in my special kitchen helpers to prep dinner and set the tables. This meal takes a bit longer as we make a bigger deal of it. Roasting hot dogs, doing a dutch oven dinner, or tin foil dinners are fun options. We also like to do the "selection bar" type of dinner when planning grandma camp. This way, most of the ingredients can be prepped ahead of time. It also satisfies our picky eaters. They can just pick and choose what they want.
Dinner Clean-Up (15 – 20 minutes) – I usually put an extra helper on dinner meals since there is usually more clean up.

Activity (1 hour) – I like to do an activity that can involve dessert. Sometimes this is cooking s'mores and talking about fire safety. This gives some of the older kids a chance to learn about building a fire with Papa. We usually like to do something that will be easy clean up but fun or educational.
Bedtime Routine (30 minutes) or Nighttime Activity (1 hour) – This will depend on how many days your camp runs or everyone's energy level. You may want to just wrap it up for the night at this point. Just get PJs on, brush teeth, and read some bedtime stories. Include whatever suits you into the nighttime routine. OR. . . It's fun to add night games to your schedule for grandma camp like flashlight tag. Still you can choose to do some other cool nighttime activities like looking through a telescope (We've had this telescope for a couple of years and it's awesome!), or an outdoor movie (foldable movie screens are great for this) with pillows and blankets. Since the sun sets quite late where we are, we will choose a late-night activity the first night only. After that, we are all usually pretty sleepy at the end of each day.
When you do a longer camp, it's best to have more free play time.  The cousins just love playing together and it gives Grandma and Grandpa a little down time. Our Water Fun time was essentially a play time for the kids. We set up a small swimming pool, a bowling slip n slide, a trampoline, and some small soccer goals for our Water Fun time.
I included this actual sample of our schedule for a two-day camp:
Of course, you will want to tailor this to your own situation and the needs/wants of your grandkids. But you can use this to get started and tweak it as you go. After the first year, it's really fun to allow the grandkids some input on ideas for what to do and how to create a schedule for grandma camp. You will also find out what they loved and maybe would like to change for the next year's camp.
**One Word of Advice: You will need to schedule in personal time for each of you. My husband and I take turns getting in the personal time that we need. He's fine with getting in the shower after the kids have gone to bed and sleeping on wet hair. However, for me, that just won't work. I have to do the whole hair washing thing in the morning. On top of that, I still need time for make up and getting all un-scary. You know. . .girl stuff!
Well, there you have it! That's how we put together our schedule for grandma camp. Hopefully, this gives you a jumping off point. Now you can put together something that will work for your camp and situation.
I know this all sounds like a lot of planning, prep and performance, but remember the reason you are doing this. . .your WHY. For Papa and I, it's for this cute little mug and all the other Littles in our life!
We want our grandchildren to love the things we do together. But mostly it is for making memories that will last a lot longer than we will. It is for our Littles to become good friends with their cousins and remember that families are important!
"We want our Littles to become good friends with their cousins and remember that families are important!"
I would love to hear what your reasons are for being crazy enough to go to all this work to hold a grandma camp. PLEASE comment below and let me know that I'm not the only wacky Nana out there that wants to be the "fairest in all the land."
Cookies & Milk for Everyone!