Have you ever wanted to hold your own Grandma Camp? So, what's stopping you? Maybe it seems overwhelming to host a whole camp. Or maybe you just don't feel creative enough to plan the nuts and bolts of the whole thing. Or could it be that you're a little worried how things will go. The answer? Start with just a day or two – a Grandma Camp Weekend!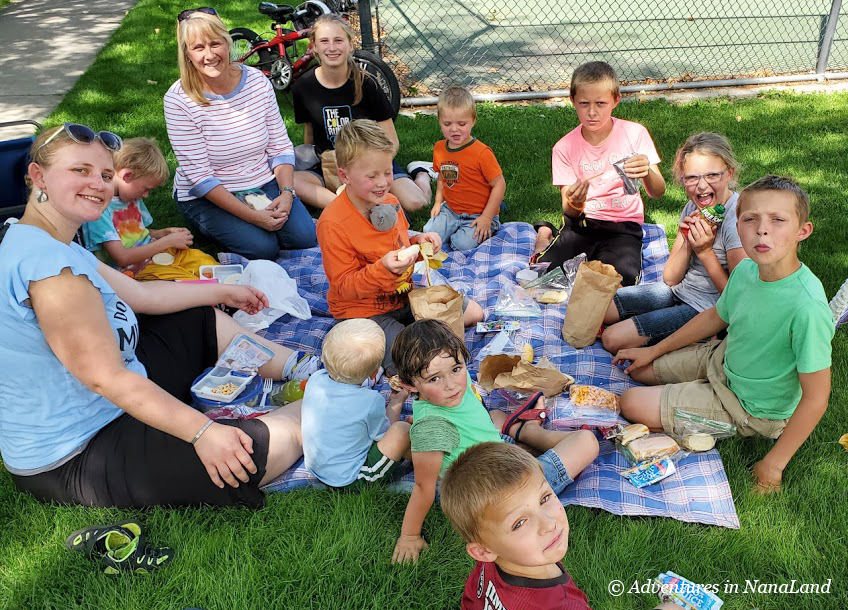 I know what I'm talking about here. When I first thought of doing a summer camp for my grandkids, it was a bit out of my comfort zone. At that point, I already had 10 of my Littles and the thought of being solely responsible for all them for a week without their parents was. . .well let's just say it was terrifying!
And that's really saying something, because I was the grandma who always wanted the grandkids over to my house to play and do all kinds of activities. So, if I was intimidated, I don't blame you if you feel uneasy. However, I started small and had the kids for just a quick Grandma Camp Weekend and. . .it was such a great success, that we all wanted more!
So, if you're thinking about doing a fun little weekend with the grandkids, here are some of my "must do's" to make it a success!
---
Grandma Camp Resource Guide with FREE Planner!
If you would like to get a quick-start,
step-by-step guide
that will get you up and running in no time,
check out our Quick-start Guide:
---
In order to have a successful Grandma Camp Weekend, you MUST:
K.I.S.S (Keep it Simple, Sister) Your Grandma Camp Weekend Plans
First and foremost, keep things simple! The things you decide to do may take lots of energy but try not to get too complicated. As a matter of fact, the younger your grandkids are, the simpler things should be.
When it comes to crafts or activities, doing as much ahead of time as possible so that what is actually done during your Grandma Camp Weekend is the fun part. Just know that if you think something is going to take 10 minutes, you need to plan for 30 minutes (at least!).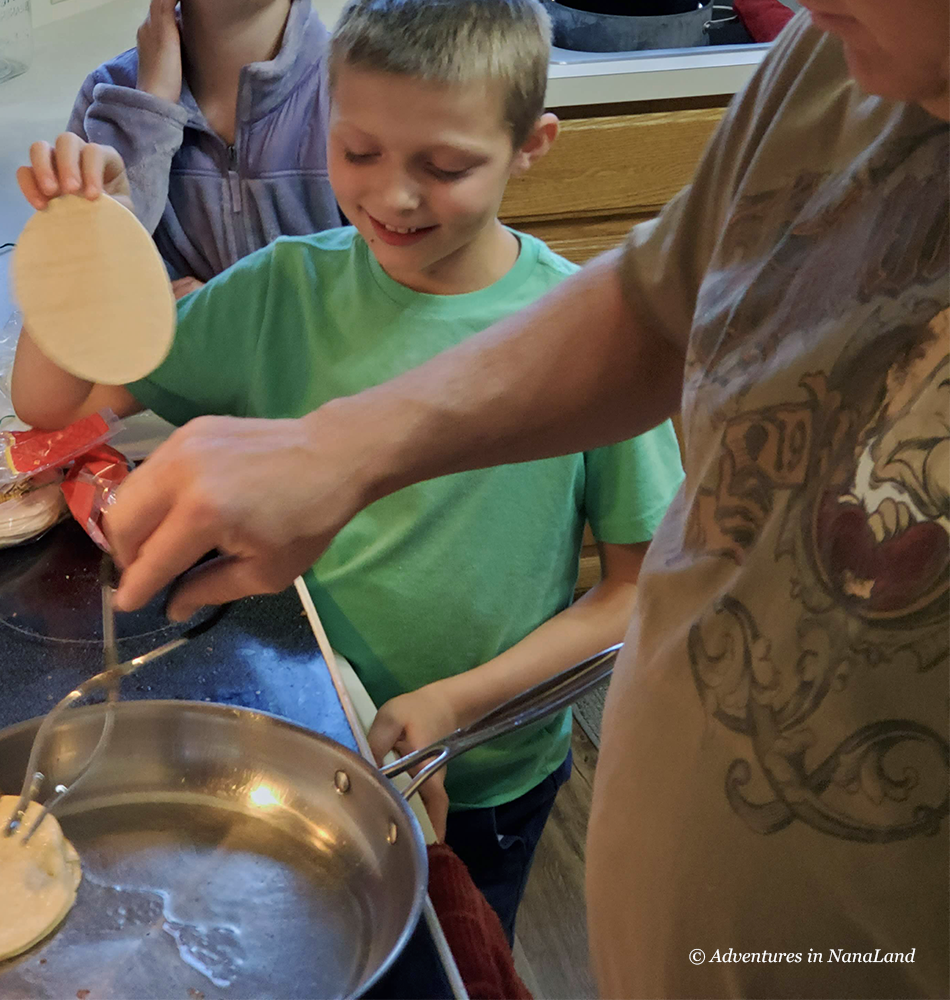 Keep the meals simple as well. Kids don't like fancy or extravagant. I asked my oldest grandson what meals he wanted for our upcoming camp. He said, "Pizza twists one night. Homemade pizza the next. And Pizza twists again on another night." Ha ha! And here I was worried about providing variety! Silly me! While you don't have to have just one dish (reinvented each day), do remember that kids are pretty easy to please and won't notice if the meals are similar.
And, in the spirit of keeping meals simple, just go with stuff they like. Camp is not a time to be forcing new foods.
Another thing to keep simple are your decorations or "extras." I not only like to keep them simple, but I like them reusable as well. If they don't have a secondary purpose, I think twice about adding them.
Prep Ahead of Time
This is by far the biggest key to a successful Grandma Camp Weekend! Do as much prep ahead of time as possible! I can't stress this enough. If you plan your meals right, you will find that you can almost completely prep all your food. The same goes with your crafts and other activities.
Don't be afraid to involve the kids in this step. They will get a sense of ownership and responsibility for making things go well at camp if you involve them. You might be surprised just how helpful they can be!
Prepping meals, activities, crafts and other aspects of camp, will help you enjoy camp with your grandkids so much more. If you are spending all your time creating and making and being in the thick of things during camp. . .you'll miss the magic.
What's the magic? Watch what happens when you are actually present and involved with the kids. That brings us to the next "Must Do". . .
Enjoy the Kids and Have Fun
It's easy to get caught up in carrying out the plans and thinking ahead to the next activity. But you have to remember that a great Grandma Camp Weekend can't exist without – GRANDMA (or Grandpa)! The whole idea here is to make memories WITH the kids.
My advice is to do your best to plan. Get everything prepped as much as possible. And. . .then be present during camp. Get down on the kids' level and don't worry too much about the schedule and whether or not each meal is perfect.
Our grandkids have told us that the things they love the best are when we play with them in the park and sit down and roast hot dogs over the fire together. They also have loved to snuggle with us during movie night and playing games during family hour.
Probably the #1 best time ever was when Papa super-charged his marshmallow shooter during our marshmallow wars. Chasing around the kids and having them chase after us with our homemade marshmallow guns was by far one of the best bonding times we've had!
Expect the Unexpected During Your Grandma Camp Weekend
The old adage from Murphy just never seems to go away: If anything can go wrong. . .it will! Well, I'm not sure if it always WILL, but it certainly can. So, with that in mind, always expect the unexpected during your weekend. How?
Plan B!
Let me share an example of how I learned this one. . .the hard way!
I was the cook for a girls' week-long camp for a couple of summers. So, it was my responsibility to plan, prepare and cook all the food for the whole week. To help the girls pass off one of their camping experience requirements, we planned to cook a meal over a fire. One of my favorite ways to do this was to have the girls make tin foil dinners. Some hamburger, potatoes, carrots, bell peppers and onion soup mix in a piece of tin foil plopped on some hot coals of a campfire. What could be easier?
Well. . .that is IF you can start a campfire. . .Something that's a bit hard to do in the pouring down rain!!
Yes, it rained and rained and rained. . .and rained!! I had girls who worked their fool little hands off trying to start and keep a fire going. When it became apparent that this just wasn't happening, I had to come up with a Plan B and in a real hurry! I had 30+ girls and their leaders who were expecting something hot and yummy for dinner.
So, there I stood in the rain (well under a leaky canopy) trying to figure out what to do with the ingredients sitting on the table. I had no extra food and not even any extra spices and certainly no way to get that campfire going. In short, no Plan B. . .and a whole lot of panic.
When it comes to activities, crafts, food and other aspects of your Grandma Camp Weekend, have a Plan B at least in your mind. I try to have at least one alternate (super simple) meal ready to go at the sign of trouble. And, I try to plan at least one alternate activity in case of rain or other failed plans. If nothing else, a rousing game of tag or hide-n-seek might be just great for a Plan B!
Absolutely, Positively Get Help with Clean Up After Your Grandma Camp Weekend
When speaking about clean up, we could be talking that you might have a few dishes to wash, clean a bathroom and some vacuuming to do. On the other hand, you might be ready to declare your home a disaster area. In the case of the latter, you may want to hire some help. Yes, you could do a professional cleaning service if you can afford it or you can simply hire the teenager from next door for an hourly wage to come tame the mess.
You could always consider having the kids or their parents come help clean up also. Get creative!
Whatever the case, don't be afraid to enlist some help or you may not want to do another camp EVER! After all, nobody likes to clean up alone after a fun weekend of playing together.
So. . .What's the Best Part of Grandma Camp Weekend?
Making memories and building relationships with your grandkids will be some of the best time you'll ever spend. Your grandchildren will probably not remember all the gifts you gave them. They may not even remember all the places you went together. But. . .they will ALWAYS remember the great times they had being with you. And. . .holding a Grandma Camp Weekend is a great place to start!
Cookies & Milk for Everyone!
Oh. . .and What Happened to the Failed Tin Foil Dinners?
Well. . .long story, short – I concocted a hamburger soup with veggies. It was hot and yummy just as promised. The girls deemed my creation. . .Storm Soup! It was their favorite meal of the week, and I was quite relieved!
And ever since then, I ALWAYS have a Plan B in my back pocket to save myself a bit of panic when things don't go as planned.
---