As the first Halloween approached after our grandson was diagnosed with food allergies – over 30 of them! – I wondered what in the world I would be able to do for him on Halloween.  So I Googled and Pinterested (is that a word?) some non-candy Halloween treats but there were not very many options at the time. However, times have really changed and there are lots of great ideas now!
In the past couple of years, we have discovered that some people put out a teal pumpkin to indicate that they offer some non-candy Halloween treats for those little trick or treaters who have allergies. So, if you have grandchildren who need some special treats, look for those teal pumpkins either in the front yard or on the porch.
So, let's talk about a few of those substitutions for Halloween candy. What can you give your grandchildren as an alternative to the traditional Halloween sugar fest? Let's face it, you may not be dealing with allergies, but perhaps you are just looking to give something a bit more healthy or just to do something different this year for the grandkids. So. . .
What's a healthy alternative to candy on Halloween. . .that's also really easy?
I don't know about you, but I truly consider most fruit a real treat! (This is why I can't do Keto.) So, when it comes to "trick or treat", giving fruit can be a really great treat! Below, I will show you some great ways to dress up your fruit and other foods to make it more fun to get. . .and give.
Top 13 Non-candy Halloween Treats (that you pretty only need a Sharpie to Complete
*This post may contain affiliate links. All this means is that we get a small commission at no additional cost to you if you click through to the product. Please see our disclosure page for more details.
I rounded up my 13 favorite non-candy Halloween treats to give that mostly ARE food, but NOT candy. The beauty of most of these is that all you need is the item and a black Sharpie pen. There are a few that need another item like gauze, googly eyes, or felt, but you may just have those lying around the house anyway. Honestly, what can be easier??
Wait! Wait! Wait! You don't have any Sharpies??? Well, treat yourself this Halloween to a bouquet of Sharpies!
(A little note: I tried to find sources to link to so you could go to the website to see how they're done, but some of these are just moms doing their best and showin' off their Sharpie skills. For the ones that don't have websites, you can just look at the pictures and you'll get the idea.)
String Cheese Ghosts
These not-so-scary little guys are so easy peasy to make! Just buy your favorite string cheese and add "scary" ghost-like faces on the backs. Done!
Pumpkin Cuties
When you get the Cuties (or your favorite brand of mandarin orange), most of the work is done. All you need to do now is get out that black Sharpie and draw some cute Jack-o-lantern faces and voila! Instant pumpkin treats!
And the winner is. . .Kitchen Fun with My 3 Sons! I thought Jill did the best Jello/pudding cup Halloween treats by far. Some of these require more than just a Sharpie, but you don't have to attempt the others if you just want to stick with our Sharpie-only rule. (Or you can use your new bouquet of Sharpies to color some really fun monster faces!!)
Applesauce Halloween Pouches
Check out these cute little monsters! You will need to cover the applesauce pouches either in orange (duct tape) or white (gauze) and then get out that good ol' Sharpie and draw eyes or a face. . .or both! P.S. GoGo Squeeze are my very favorites! Yes. . .I eat applesauce from a pouch with the kids. 😉
Banana Minions
Aren't these just adorable?? Okay, so I know that they are not exactly Halloween, but I couldn't resist putting in these little one-eyed guys in the round up. In the picture, they use a very large googly eye, but you could always use just a Sharpie to draw the eye if you want.
Pringles Monsters
How clever (and easy) is this?!? All you need are some of the Pringles Snack Pack containers, some colored-paper (I know, I know – Sharpie only), and a Sharpie. If you put some colored paper over the tops of these, the little faces you draw will be easier to see. By the way, I had a hard time finding these in my local grocery store. In case you are having trouble finding these, try Amazon for the Pringles Snack Packs.
Jen from 100 Directions did the perfect mix between easy and Sharpie only with her Popcorn Pumpkin Bags. She also filled some of the bags with goldfish crackers and drew pumpkin faces on those.
CrackerJacks
This was a great idea from My Delish Life. (I tried to link to their site, but I'm sorry to say that I could not find it.) Nevertheless, the idea is soooo cute. I'm not sure what they call the packaged crackers with the faces on them. And what did they use to put those faces on?? Of course, a Sharpie! Anyhow, I'm calling them CrackerJacks. (Hey, the Powerade bottles in the back are pretty cool also!)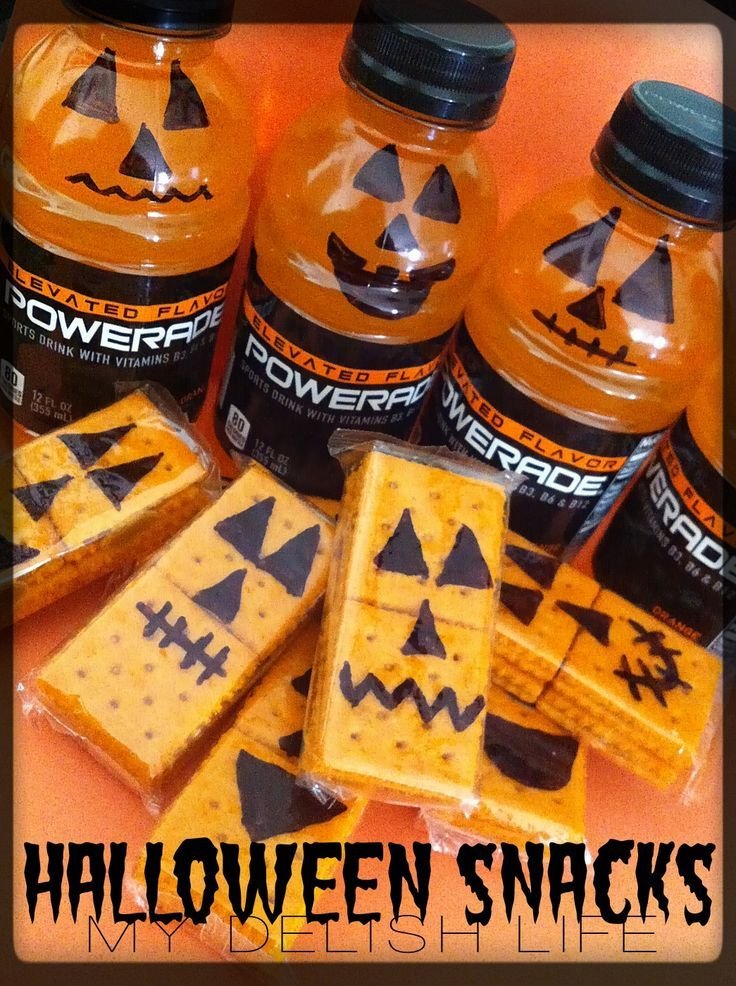 Thank you, NonToyGifts.com for giving us this great Frankenstein idea. This is so super easy that I almost don't need to mention how to do it, but for the sake of giving you some insight, I'll do it. Honestly, just get a cellophane bag and a green apple – Granny Smith for a better green color or Crispin for sweeter taste – your choice.
Draw the face on the bag BEFORE you put the apple in it. It's just easier that way. You will have to kind of judge where the eyes and other features need to go. Then, I would personally tie the tops with a metallic twist tie to complete the Frankie look, but just close it up with whatever you have.
Halloween Water Bottles
It doesn't get much easier than this! Water bottle, Sharpie, and orange-flavored drink mix. (I'm not going to lie, I am in love with the True-Orange, True-Lemon, True-Lime drink mixes!! They are sweetened with Stevia and not artificial sweetner. I have bought every flavor and I LOVE THEM ALL! They're great if you are trying to get away from sugar. Try the True-Orange for these cute little water bottles.)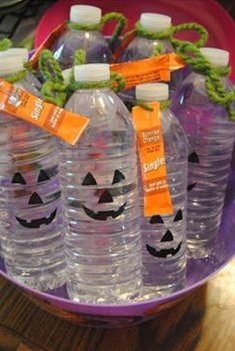 By the way, here are some Halloween Water Bottle Labels if you would like to wrap the bottles instead of putting faces on them.
Oh my! How could you make grapes look any more enticing to eat than this?? Melissa at Sparkles to Sprinkles made this super cute version of a cup full of Franken-grapes. You could probably go to a convenience store to find cups like this with lids. However, I make a lot of things that I use these cups for so I get the 16-oz size with lids from Amazon.
Ok, so you need a couple more items to complete this one, but you can usually find the felt and the bakers twine at the Dollar Store along with the glow sticks – easy peasy! Alex from Northstory got super creative with these little glowstick brooms.
Non-candy and non-food = non-perishable. Now, that's MY kind of Halloween treat!
P.S. I didn't see a printable tag for these on her website, so I created some for you. You can download them here – Halloween Tags OR, you are welcome to just get out some white cardstock and that Sharpie!!
Here's #13 – It's a Bonus idea for you! (Yes, you may be able to use a Sharpie on this one too!)
Gift Cards or Gift Certificates
Now, I wouldn't consider handing these out at the door to all the neighbor kids, but giving your grandkids some gifts cards or gift certificates could be a great alternative to the same old, run-of-the-mill candy treats. If you can't find Halloween themed gift certificates, try wrapping them in some orange construction paper and drawing a Jack-O-Lantern face on them with a. . .you guessed it. . .Sharpie!!
Here's why this is such a fun alternative. . .
If your grandkids live close by, you can take them to spend their "money" from wherever you got the gift cards. OR if your grandkids live far away, these are easy to mail to them. . .and kids LOVE getting their own mail!
Dig Out that Sharpie and Get Creatin'
That's my round up of my favorite, easy non-candy Halloween treats. And there you go. . .grab that Sharpie pen and get to work! Have a fun & safe Halloween!!
Cookies & Milk for Everyone!