The Ultimate Guide to Grandma Camp
This is the ultimate guide to planning and hosting your own Grandma Camp (or Cousins Camp)!
You will be able to organize and plan things like how to plan a schedule, find supplies, create kid-friendly meals, put together the perfect theme with activities and games, and so much more!
You will find all the resources you need to make your camp a memorable event for you and your grandchildren!
If you want to spend some quality time with your grandchildren and have more fun than you've ever had in your life. . .
If you are a busy grandparent who would like to figure out a way to get the grandchildren together with you and create memories to last a lifetime. . .
If you need to wrap your mind around trying to organize and pull off a grandma camp but just aren't sure where to start. . .
What Exactly is a Grandma Camp?
While some actually call it grandma camp, others call it cousins camp. Some even call it grandparent camp. No matter what you call it, you just want to get those little grandchildren together and call it FUN!
For the sake of simplicity, we're going to call it grandma camp. Honestly, a grandma camp is whatever you want to make it. It can take any form you want from a week-long event to a single day camp as long as it involves the grandkids.
You don't necessarily even need to get your grandkids together in person. While it can be a bit more challenging, you can hold a "camp" with your long-distance grandchildren as well.
A grandma camp usually involves dedicated time together where you play, learn, explore, discover, and connect with each other. Camp can be a unique bonding time for grandparents and grandchildren. Above all, camp gives you a chance to be together that is different than the norm and dedicated to just the grandkids.
It's super exciting to hold a camp for the grandkids! We're here to help you in planning your own grandma camp for maximum fun and memory making!
Are you ready?? Let's go. . .
Let's begin by thinking about where you're going in order to end up with the best camp ever!
In this chapter, we'll help you get things off on the right foot while answering some of the most asked questions about holding a grandma camp.
Hosting the Perfect Grandma Camp: Begin With the End in Mind
You could certainly become quickly overwhelmed when thinking about putting together your grandma camp. Well, that's where we come in. We'll try to help you get organized, give you a roadmap, and put your mind at ease.
Let's start with some of the most asked questions from our grandparent community. It will give you a great jumping off point!
How Should I Organize My Grandma Camp?
As we mentioned above, there are many ways to organize your grandma camp. Here are some of the most common types of camps:
Day Camps – You can choose to hold a single day camp, half-day camp, or a series of day camps. These
types of camps don't include overnight stays which are usually better for your
younger grandchildren.
Week-long or Multi-day Camps – These are probably the most common types of camps. They are usually best held during the summer, long school breaks, or weekends.
Long-distance Camps – Also known as virtual camps, these can be held with chat for short amounts of time. It's a bit more difficult to hold the kids' attention over the computer.
Preschool Camps – This works well if all your grandkids are under school age allowing you to hold camp almost anytime of year.
What Should I Call My Grandma Camp?
While there are no specifics on how to come up with a name for your camp, most grandparents will choose to either use a generic name like Grandma Camp or personalize it a bit more by using their name.
A fun generic name is Cousins Camp. After all, this is where the cousins gather together as friends. Of course, simply calling it Grandma Camp, Grandpa Camp, or Grandparent Camp are all acceptable.
Personalizing the name of your camp may be more memorable and fun for your grandchildren. Camp (grandma or grandpa name) is easy. You can combine the names as we have done with Camp NanaPapa. You could put your grandparent name first and then "camp" at the end.
Or, if you wanted, you could dump the grandparent names all together and use a last name, a fun word or phrase, or something that describes your family.
There is definitely no right or wrong answer here. However, you may want to find something that yo want to stick with for the long term.
Who Should I Have At Grandma Camp?
Let's chat about who should come to your camp. The door is wide open on this subject. Honestly, there are no rules here, only your preference.
Here are a few things to think about when deciding:
Babies in diapers – Little grandkids in dipaers can be a challen for many reasons.
First, it's simply inconvenient to be changing diapers.
Second, having to change a diaper can cause a disruption in an activity or outing plus you have to carry the diapers with you if you going out.
Third, if little ones are not old enough to be potty trained they may not be old enough to participate in activities created for older children.
So, you may want to include those little ones with parental supervisoin or exclude them until they get older. Sometimes, excluding them when they are younger, gives them something fun to look forward to in the future.
Long-distance grandchildren – Obviously, if they can travel and attend camp in person, that is the best scenario. However, if they can't then you need to decide if you could do some of the games, activities, or crafts via video chat so they can be included.
When Should I Hold My Grandma Camp?
You can hold a grandma camp almost any time of year. You only need a few hours for a single day camp. However the cousins usually like being together for more than that.
Here are some ideas for when to hold your camp:
Summer – Since most of the kids are out of school all summer, this is one of the best times of year to hold camp.
Long weekends – There are usually some 3-day breaks off from school for the kids throughout the year. Taking advantage of these can make for some fun that you can have during times of the year other than summer.
School breaks – These types of breaks could include spring, winter, or in between semester breaks.
Holiday breaks – There are also usually days that surround large holidays that would give you time to hold a camp.
Preschool – If your grandchildren are young, then most days are free if they are not yet in school.
Again, this answer is definitely up to you. However, we do have a few suggestions for determining the right amount of time for you and your grandchildren.
First, you are going to need to think about your budget. How many days can you reasonably afford to house and feed the kids? Think about entertaining them for those days as well.
Second, you should consider your energy level. Do you have the energy for days of camp or just a few hours on a couple of days?
Third, think about the attention span of your grandchildren. What can they reasonably handle?
Fourth, younger grandchildren may not be able to handle overnight stays. Whereas older children may like to stay a few days without their parents.
These are some of the more important things to think about as you consider how long to hold your camp.
Should Parents Be Involved in Grandma Camp?
There are a lot of things to consider here. Grandma camp is a great time to bond with the grandkids without their parents around. It also gives the parents a bit of alone time without their children.
Having said that, there are some reasons to have parents be part of the festivities. For instance, if you have small grandchildren attending camp, they may not be able to be apart from their parents for long periods of time. Another reason may be that you don't have enough drivers or chaperones for an outing.
You'll have to think through specifically how you do or don't want parent involved. Think about how it will affect the kids both positively and negatively.
Your plan will be your roadmap and compass to hosting the perfect grandma camp.
Start with a good plan, end with a great camp!
It All Starts With a Plan: Be the Hostess With the Mostest
Setting yourself up for success just feels good, right? Don't stress about these specific timelines if you don't have that much time before camp begins. Simply adjust as needed, but this outline will give you a basic understanding of what needs or can be done ahead of time.
Also, remember that many of these things are optional and can be added to, substituted, adjusted, or plain cut out. These are the things that we do for our camp, but yours may look a bit different.
One quick word. . .don't get overwhelmed by this schedule. We have a wonderful FREE checklist to help you with all these steps at the end of this section. So. . .read on. . .
Grandma Camp Plan: 4 - 6 Months Before
Plan the Dates – It is a good thing to plan out your dates for camp well in advance. This way families can plan around vacations and other obligations. You can also plan around split or blended family schedules.

This will also give you plenty of time to think about what all you want to do and save up if needed.

(This timeline is completely flexible and can be done much closer to camp if you don't start this far in advance.)
Grandma Camp Plan: One Month Before
Invitations & Packing Lists – Make and send out invites to your grandchildren. Be sure to include the dates and times for drop off and pick up. This gets the kids excited and looking forward to camp. Don't forget to include a packing list!
Menu Planning – It's a great idea to get the menu together and a list of items you will need for each meal. This is also the time when you need to check with parents on current dietary needs of the kids.
Daily Schedule of Events – Create a sheet for each day of camp that you can display for the kids to see. Trust me! It will save on the kids constantly asking you, "What are we doing next?" I create these on my computer but don't print them out until the day before in case there are changes to the schedule.
Sleeping Arrangements – You may need to have separate rooms, tents, or just sleeping space for the grandkids to be comfortable. Make sure you know how to set up and take down the tent if you're using one. Or make sure that there is enough room in the living room for all the sleeping bags. This year, we got a few of those little cots for sleepovers.  Some of the children needed those to be able to sleep well. Be aware if you have a need to separate the boys and girls.
Plan for Teasers – This is not a must on the list, but it is fun if you want to sue little teasers throughout the month to get the kids excited about coming to camp. You can plan small things like mailing a postcard to remind them to get their things packed. Or send a text (to the parents) talking about a countdown of days to camp.
All this can be done in the weeks leading up to camp. This will keep you from going crazy the week before. Planning ahead also can alert you to any changes you need to make in case things aren't coming together quite as you wanted.
Grandma Camp Plan: One Week Before
Final Arrangements for Outings – Make any final arrangements for places that you will visit. Check on things like reservations, construction on the roads, advance ticket purchases, etc.


 Goodie Bags – If you have a goodie bag or welcome packet for the kids, get those put together. This way you will know if you are missing something or are short on supplies. These are our favorite drawstring backpacks. They come in all colors and they're not expensive. Great combo, right?


Finalize Schedule – Hopefully, there won't be any last-minute changes, but now is the time to find out if there is. If all looks right, you could go ahead and print your daily schedules if you're sure they won't change.


Prep Your Home & Vehicles – Over the next week, take a look around home and make sure that everything is ready. Especially, take a good assessment around the outside. On the inside, just make sure all the rooms are ready for whatever they need to be used for. 



Gather All Craft/Activity Supplies – It's in your best interest to gather all your supplies for each activity into a box. 

Music – Gather up some silly camp songs that the kids can sing. This can e a fun way to bring some unity Make this a tradition even if you aren't particularly musical. It's great to fall back on when you need to get everyone's attention. 

Responsibility Charts – You can make up and print off responsibility charts for the kids to follow. 

Test All Equipment – Test out everything ahead of time whether it's a firepit, an outdoor movie, crafts, painting, a camp stove, a dutch oven, car seat installation (yes, make sure you know how to do it right!), test anything that could cause you to waste time "fixing" while the kids have to wait on you.
Well, that bring us up to T minus 24 hours. . .
Grandma Camp Plan: The Day Before
Shopping – Finish all shopping for your fresh/perishable foods. Now is the time to check and make sure there isn't anything else that you have forgotten at the store.


Food Prep – Make sure to finish prepping any food that needs to wait until the last minute. Clean out the fridge and freezer and make room to store anything that needs to stay cold.


Set Up Sleeping/Changing Areas – Set up and divide off the sleeping quarters and areas for changing clothes. Just make sure you clearly mark these areas. Remember, you are trying to avoid getting a thousand questions during camp.


Clean Inside & Make Things Easy to Find – Clean up all the areas where the kids will be. That way you can show them what it should look like before they leave camp.



When planning grandma camp, you need to think through anything the kids will be helping with and make it accessible.

Get Your Camera Ready – Make sure that you have a camera/phone ready to take pictures and video of all the fun at camp. The parents will want to see and so will the grandkids. You may want to be able to document that you really did this!



Decorate with Theme Items – Hang the banner if you have one. Put up any decor that you have that will give the fun ambiance of "camping" away from mom and dad.

Kiss Your Sanity Goodbye – Lol! Just be prepared. . .for anything! You need to prepare mentally to have the kids around 24 hours a day for the next few days OR partial days for several days in a row OR for the whole weekend.

So, don't be unrealistic about your expectations. Yes, you've spent a lot of time planning this; and yes, you want all to go well. However, don't worry too much if things don't go exactly as planned. Let go! And. . .remember why you are doing this.
We know that this sounds like a lot, but don't worry. . .we've got your back. You don't need to feel overwhelmed. We have a couple of solutions:
We're happy to share our Grandma Camp Checklist with you!
Sign up below to receive your FREE Checklist today!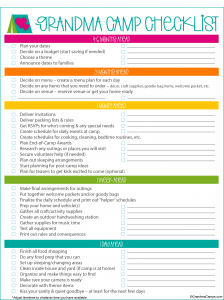 Knowing your budget and how to make the most of it will help you plan the best camp possible.
How to Get the Most Bang for Your Buck
When planning your budget for grandma camp, be realistic. If you have a large number of grandkids, don't expect to get away with bare bones budget. . .unless you already have most of the supplies and food on hand.
Having said that, we can show you some ways to cut your budget and get the most bang for your buck!
Be realistic when setting your budget – We talked about that above, but it's so important, we're saying it again.
Keep things simple – Try not to go overboard and use as many things as you can that you already have.
Shop sales – If you start early, you can take advantage of sales around holiday times. Watch the newspaper and mailers that come to your mailbox for coupons or deals.
Use bulk pricing or online discount sites – Obviously, places like Amazon or Oriental Trading can usually give you some better deals if you can wait for shipping.
Creating a schedule for your grandma camp can be a life saver for your sanity. Trying to remember what activity comes next with all the kids clamoring around may be your undoing if you don't have it planned out.
How to Create a Schedule with Confidence
Creating a schedule for grandma camp can seem overwhelming. However, knowing what goes on the schedule and how to time out your activities and meals will help you create that schedule with confidence.
The first rule is to understand that things will take longer than you think. Let me say it again: Activities, games, outings, meals, and crafts will ALL take longer than you think they will!
With that out of the way, let's talk about what kinds of things to put on your daily schedule. You will want to schedule everything from the time the kids get up until they go to sleep at night. Don't leave anything out. . .even the "down time." (I'll get to that in a bit.)
You will have to determine the length of time for the activities, games, crafts, and outings. Each of those things are so individual. Remember when planning outings make sure you build in time for travel, gathering up the kiddos both to leave and to come home, and time for any meals that you will need to eat out.
Besides the things I have mentioned above, here are some other things you may want to plan into your schedule:
Opening & closing ceremonies
Time for music
Meals – remember to plan time for set up and clean up
Morning routines (making beds, brushing teeth, getting dressed, etc.)
Bedtime routines (PJs on, brushing teeth, prayers, etc.)
Devotionals
Free time/playtime*
We all know that kids can be a tough crowd to cook for. So, in this chapter, we'll talk about some practical ways to get kids to eat all while staying within your budget.
Creating Kid-friendly Meals for Grandma Camp
Let's face it, kids are sometimes hard to please when it comes to eating. A wise man one said that you can lead a horse to water, but you can't make him drink. But an even wiser man added, "However, you can salt his haystack."
In this chapter, we're going to talk about "salting the haystack" to get even the pickiest grandkids eating the meals at grandma camp.
One great way to begin getting kids interested in even caring about what they eat is to involve them from the beginning. Include the kids at the start when planning your menu. Allow the kids to have input on your meals for camp. Then take them shopping and allow them to help with prep.
Use lots of color! Fruits and veggies come in a variety of colorful shades of red, orange, green, purple, yellow. . .you name it! Children love color and enticing food choices.
Do you have grandkids with allergies? That can be a tough proposition. We have a few suggestions for what to do if you have to cook for grandkids with allergies for your grandma camp.
Know What You're Dealing With! Become very familiar with what your grandchild's allergies are and what they absolutely cannot have. Know what the substitutions are (if any). And definitely become familiar with what the implications of an allergic reaction might be and how to recognize the symptoms.
Read ALL Labels! Read every ingredient label even if you think you know what is in it. Let me give you an example. I had to cook for some girls at a youth camp who were allergies to sulfates and sulfites. I was going to use some hash browns in one of my meals. I learned that those frozen hash browns were preserved with lemon juice. No problem, right? Wrong!
Who knew that lemon juice has sulfites? Yikes! So, read and understand all the ingredients for everything you prepare.
Homemade is Usually Best. When it comes to allergies, it's usually better to make food from scratch as much as possible. There are always those little ingredients that get tucked into prepared foods that may slip by you.
Let the Parents Provide Food. This one is probably the best solution of all. Offer the parents access to your meal plans for camp. Then ask them to provide any food or snacks that their child will need substituted. Keep that food separate from the rest of the group's food so it's easy to access and identify.
You want your grandma camp to create the best memories for your grandchildren. Start with things that will become beloved traditions over time and the kids will never forget it!
Traditions Make Your Camp Memorable
Do you want to make sure your camp is a big hit with the grandkids? Create the kinds of memories that will last a lifetime through family traditions that are meaningful and will build lasting relationships.
What do we mean by traditions? Anything that you do consistently year after year will build new traditions. You can incorporate established family traditions into your camp as well.
Because families have so many individualized traditions and do things in their own way, it makes this a pretty wide topic. So, for the sake of simplicity, we'll share with you some basic examples of new traditions to build just for camp. We'll also point out some things you may or may not think of as traditions that you may want to include.
Camp Traditions
Use invitations – use these to get the kids excited about camp
Opening & closing ceremonies
Favorite meals that you have every year
Music/Singing
Special camp bedtime routine or wake up routine
Family Traditions
Religious or cultural traditions (like prayer)
Serving together
Working together
Taking group/family pictures
Doing secret acts of kindness
These are just a few ideas to get your creative juices flowing. Brainstorm some ideas to incorporate some traditions that the kids will look forward to year after year. Those are the things that help bond you and your grands and make the best memories.
Having a theme for your grandma camp is completely optional, but it makes things so much more fun!
Can't think of the perfect theme? We'll give you a few tips to find the right one for your camp.
Themes That Bring Life to Your Grandma Camp
People often want theme ideas for their grandma camp for a couple of reasons. One reason is that having a theme makes it easier to plan out invitations, crafts, activities, and even meals. The other reason is that it just makes tings so much more fun!
Here are a few tips when considering a theme:
Access what you already have on hand – choose a theme for which you have existing items (craft items, decor, etc.).


Choose a theme that everyone can enjoy – this is especially relevant when you have multiple age groups attending your grandma camp.


Take the ages and abilities of your grandchildren into consideration.


 Pick a classification and choose something from there. Here are a couple of ideas:
Historical – time period of an ancestor, important event, or even future (robots, space, pioneers, etc.)
Disney – Choose a movie, a character, a place, etc.


Go to a party supply store, Walmart, or a dollar store and walk the aisles of party supplies. You'll find lots of inspiration there!
Here are some basic theme ideas:
Magic
Space
Lego
Circus
Dragons
Dinosaurs
Seasons
Superheroes
Spies
Mystery
Ocean
Science
Zoo/Jungle
Insects
Royalty
What do you do when things aren't going as smoothly as you would like at grandma camp? With lots of cousins together, there are bound to be one or two incidents where you will have to intervene.
Time In or Time Out: Discipline at Grandma Camp
Disciplining your grandchildren is one of the most difficult things for a grandparent to have to do. Truly, all we want to do is to hug and cuddle them and of course, spoil them rotten! But what happens when things get a little out of hand at grandma camp and you need to apply a bit of discipline?
The kids are bound to get on each other's nerves once in a while and struggle over rules to a game occasionally. When those things happen, there are many ways to handle the situations. However, we believe that one of the very best ways is to be proactive in preventing as much as possible.
One of the ways that we try to preempt unwanted behavior is to get the kids to "buy in" on all the rules and consequences. 
Setting those expectations early is a great first step. However, it doesn't guarantee that there won't be some misbehavior. Here are some of our best tactics to either handle the misbehavior or to proactively do what we can to prevent it:
Let the kids work it out by themselves


Use a "time out" space 


Make sure the kids get enough sleep


Make sure the kids eat well 


Reward good behavior


Follow through.


LOVE! LOVE! LOVE!
When grandma camp is over, there are bound to be just a few tears or at least moans about having to leave from the grandkids. However, we have some suggestion so you don't have any tears!
Wrap Up Camp Without Tears
When your grandma camp is over, there will be a bit of relief. DON'T feel guilty about this! Look, we're not as young as we used to be, and camp is a lot of work. It takes a lot of energy to keep up with grandkids for multiple days. Even if you're just doing day camps, it still takes a lot of stamina, but at least you get the evenings to recoup.
This chapter applies more to those holding multiple-day camps than the single days. We have three things that are essential to wrapping up your camp and help you feel like it was a success:
The first thing is the clean up! Whether you need to just do a few dishes and sweep the floor or if you feel the need to call in FEMA, you will need a strategy for cleaning up your home or the venue where you held camp.
Decide what the best strategy is and get to it as soon as possible. Because, trust me, you won't want to do it later! You'll just want to collapse and relax.
Which takes us to the next point. . .
Please take some time for yourself now. You've done a great thing having the grandkids all together for a fun camp experience. Now, get a massage, take a bubble bath, go play a round of golf, read a book, or do whatever relaxes you the most. Listen to some relaxing music or just sit and listen to the silence. Ha ha!
Preserve the memories from camp. As you know from raising your own children, these years won't last for ever. The time will go by as fast as they did with your own. So, figure out how to preserve the memories from camp so you and the grandchildren will always remember those fun camp days.
One of the other things that we discovered is that they parents were curious as to what all we did to entertain their kiddos. They especially want to know about good behaviors, special talents their kids showed off, funny things that were said, and anything that they  learned. These things are easier to share when you have documented them.
Prepare for the aftermath of camp and you will find that it's the perfect way to end a great bonding experience. We have more information on creating memories for grandma camp here.
Are you ready for more detail on planning your camp??
See the resources below to get started on your planning today!
FREE Checklist
to Get You Started
 Planning Your
Grandma Camp!
Sign up for your FREE Grandma Camp Checklist today!
You will find a flexible checklist that will allow you to plan a grandma camp on your timetable.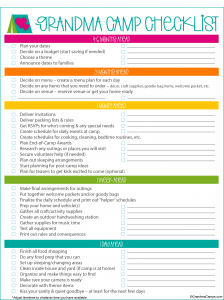 When you sign up for the checklist, you will receive weekly emails that will give you more ideas and even a free monthly calendar with ways to connect to your grandchildren both local and long distance. (No cost. No obligation. Cancel anytime.)
Get the Ultimate resource for your Grandma Camp! It's a step-by-step guide that will walk you through planning and hosting your own camp.
And guess what? You get a FREE Companion Planner to help you stay organized and on top of things!