100+ Ways to Spend Quality Time with Your Grandkids
+ a bonus just for YOU!
Oh, how we love doing things with the Littles (our grandkids)! There are lots of things you can do to spend time with your grandkids. However, don't you want to make sure that the time you spend is good quality time? Of course, you do!
Remember that when it comes to spending time with anyone really, it's about quality not quantity. So, make the most of your time with those sweet little people.
And we've added a little BONUS for you!
We've taken some time to put together a little information about all 100+ activities down below and some links to help you along the way.
We hope you will make yourself comfortable here in NanaLand. Feel free to roam around a bit and check out what we do. Here are some of our most popular posts:
Now on to the BONUS Stuff. . .
Plant something together
You can do this quite simply in an indoor pot or go outside and plant a whole garden. Papa likes to let the kids help plant, weed, water, and take care of our garden. They love the harvest! There is a lot of teaching that he does when gardening with the Littles. You can even do this long-distance. I wrote a post about being a long-distance grandparent here.
Let them help plan an outing
There's great fun in going on an outing with grandma and grandpa. However, if you let the grandkids help plan, they will be much more invested and will really look forward to it!
Learn a simple instrument together
There are some really simple instruments out there that you can learn in just hours or in a short amount of time – think ukuleles, harmonica, even a small keyboard. You may not be proficient, but learning about the instrument and a simple song is tons of fun! We bought the Littles ukuleles for Christmas a couple of years ago. It has been fun teaching them to tune the ukes, and we even have learned a few little songs together.
Serve together at a food bank
You can't get much more quality time than serving together. Of course, this will depend on the ages of your grandchildren, but when they are old enough, this is a stellar activity!
Go to a church service together
For us, this is often! We found that worshipping together brings us closer as a family. If you don't go regularly to church, try to make attending a worship service together part of a holiday tradition. You won't regret any time you spend in church!
Do something with family history
So, this one can be super fun and the grandkids seem to really love it! This can look like anything from making a family tree for a scrapbook or bible, or writing down stories from your childhood, or even visiting a family history center and look up ancestors. (Just google "family history center near me" or go to familysearch.org. There is usually at least one in each state.) Okay, so I', even a big enough nerd that I enjoy going out to cemeteries to find headstones of relatives. . .yes, and I drag the Littles along.
Watch a movie outdoors
This usually has to be done with older kids since you have to wait for it to be fairly dark before you begin the movie. We put up a white sheet on the back fence and use a projector from the computer. We pop some popcorn, get in our PJs, and snuggle up with some blankets in camping chairs in the backyard. It's also fun to do out on the driveway and invite the neighbors to come.
Build marshmallow guns and have a war!
You can build simple marshmallow guns out of balloons and paper cups or go all out and build some "guns" from PVC pipe. If all of that fails, a rubber band and some marshmallows can go a long way in getting in a good shot at someone. This is one of the most fun things we did with our own children and now the grandchildren – cheap and easy!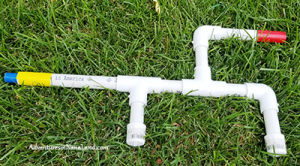 Make a Video tutorial
This may seem like it could be super technical, but it's not. It can be as easy as getting out your phone and shooting a short video of your grandchild teaching how to do something – like how to tie a shoe or make a sandwich. Have your grandchild describe each step. This is usually pretty funny and you can post it on a private You Tube channel for just you and your family or keep it for your "family's funniest home video" montage.
Cook S'mores & tell scary stories
If you have a backyard firepit, then this should be a regular occurrence. Kids love s'mores and listening to stories – okay, so they may just want to make up ANY kind of story, but the important thing is to get them talking.
Do a simple science experiment
If you have a grandchild that is really into science, then they would LOVE for you to do some simple little experiments with them. Aw heck! Even if they aren't into science, they will love doing some simple things like making rock candy or doing the whole "exploding Mentos in the Coke bottle" thing. Don't worry. . .you don't need a PhD. Here is a cute site that has 50 things for you to try – Mommy Poppins!  (So very cute!!)
Start a collection together
This is super fun! One of my grandsons wanted to start a rock collection, so we started one together. Everywhere I went, I was looking for special rocks to add to the collection and it gave us something really special to talk about when we got together.
Do a jigsaw puzzle together and talk
This is one of our all-time favorite pastimes!  We sit for hours and talk while we "puzzle."  There's a great satisfaction in putting in that last piece together.
Learn a new skill together
This is similar to learning an instrument together, but maybe a musical instrument is not your thing. However, this can range from learning how to build something to trying a new recipe.
Look at old photos or baby books
Looking at old pictures together can really spur some great conversation and story-telling. One of my favorite things to do as a kid was to sit and listen to stories that my grandmother would tell me about pictures that she would show me. Now, my Littles love it too!
Put together a time capsule
This can be a great way to pass on your legacy to your grandchildren. Pick a few items that are special that you might want to hand down to them and put them in the "capsule." Have your grandchild put something in there that is special to them as well. Try to include things that have some special meaning to both of you. ALWAYS include a letter to those who will open the capsule. Set a designated time to open the capsule and put that date on it. Here are some easy instructions from timecapsule.com on how to do this.
Have a backyard campout
I know that setting up a tent and getting out the sleeping bags is a big deal, but it is so worth the effort. At our age, it might be great to dig out a cot as well – I don't know about you, but I'm WAY past sleeping on the ground. Again, the backyard firepit would come in handy here. But, if you don't, you can always pretend to roast things over the fire (you can just heat things in the microwave and then bring them out to the backyard). Sing songs while you play your newly-learned instruments – see #3 above. You could have some serious bonding moments without electronics!
Get a disposable camera and take nature pictures
What? They still make those??!! Who knew? I know it's easier and cheaper to take pictures with a phone or DSLR camera, but think of the lessons you could teach by using this kind of camera – paying attention to capture a moment, having to think about the composition of the picture, and about being a bit more intentional, because you don't always have a second chance. Kids take a lot for granted these days. Help them to see that life isn't always about instant gratification. . .yes, they will have to wait to get the film developed to see the pictures.
Help them with a school report
As a young mother, I was often overwhelmed with 6 kids in school and all often needing to do a report of some kind. Think about how much fun you could have helping out a grandchild with a country report or a science display or biology project. You may learn a lot and help out your children (the parents) as well!
Make homemade bread together
I'm not talking about mixing up some ingredients and putting it in a bread maker. No, I'm talking about the add-all-the-ingredients-and-knead-it-by-hand kind of bread. But you ask: What if you go to all that work and the bread doesn't rise quite right? Well, then have fun making scones out of the dough! Problem solved!!
Play music or sing
This can be songs from your era or current. Or they can be religious songs, camp songs, silly songs, or something you make up. Just let your hair down and maybe even do a little karaoke!
Let your grandchild teach you something
This can be super interesting. They will feel so important teaching you – someone older than themselves – something new. I suggest something tech-y. It's really good for their self-esteem and great for your relationship.
Go have lunch at school with your grandchild
Now, this one is totally up to how old your grandchild is. It could be a bit embarrassing if your grandchild is in middle school or older. However, elementary kids LOVE, LOVE, LOVE it when you come to school for any reason. My granddaughter was so surprised when I showed up to have lunch with her one day. She couldn't wait to introduce me to her friends. One word of advice though: Take a sack lunch! (School lunches still aren't much better than when we were kids.)
Plan an informal photo shoot & frame the pictures
Take some impromptu selfies of the two of you or go to a photo booth that does the photo strips (if you can find one of those). Use these pics to make a collage or frame the strip of photos. Make sure the pictures are extra silly! This makes for the best memories.
Play video games
Play a video game that your grandchild currently likes. Let them teach you how to play if you need some help. Then play a video game from when video games first came out (for me, that was when I was a kid, so it's really fun to do if you have a system to play it on). We still own some pretty retro Nintendo systems that work, and we also have one of those little retro gaming systems that you can buy pretty cheap. Those have all the classics! (Yes, I'm a bit of a computer game geek.)
Listen to vinyl records
If you have a turntable, your local library should have some vinyl records that you can check out and play. I still happen to have some of that "licorice pizza" hanging around my house. This fascinates my grandkids!
Go on an easy hike
Notice that I said "easy." Unless you are a fitness freak, be conscious of the age and abilities of your grandchild and yourself. You will want to take a nice easy trek in some beautiful country. Enjoy nature together and catch a break from electronics.
Go bowling
It doesn't matter if you are good at bowling or not. There is something about this game that makes it appealing to all ages and abilities. We like to go silly bowling and bowl in funny ways. We don't care much about the score, just the fun!
Walk dogs at an animal shelter
This is a service that you can do with your grandchild who is an animal lover. The animals at a shelter need love and attention. Most animal shelters have programs where you can volunteer to play with or walk the animals.
Ask about each other's favorite things
This is something you can do while you are just hanging out together or it can be very intentional. Ask each other about your favorite color and why, or your favorite food, or your favorite place to visit. Share these with each other and you just may find out that you have a lot more in common with your grandchild than you thought!
Share a memory or story from your childhood
This is another thing that you can do while your grandchild is helping you with some chores around the house or it can be some quiet time that you are spending together. You may think that your grandchild is not interested in the "old-fashioned" things from your childhood, but you may be surprised at how fascinated they are when you begin. . . "Way back in the 1900s. . ." It always makes my Littles laugh when I start a conversation that way.
Volunteer in your grandchild's classroom
Schools can always use good volunteers for one-time situations or on-going support. You automatically become the favorite grandparent when you are willing to take an interest and get involved in what your grandchildren are doing. The school will love you too!
Take a grandchild on a "date"
This is fun to do when the kids get a bit older but before they begin actual dating. Take them on a "date" and discuss some of the social skills they will need when they actually begin dating. I know, some of you may want to hate me for this one, but I think it is missing in today's society. There are some basic social skills that kids lack these days. First things first. . .leave your phone in your pocket or purse. Show courtesy and respect for one another.  Learn how to talk to your date. Be there in the moment with the person you are with. I could go on and on, but I think you get the idea.
Cook something with only what you have on hand
This can be fun and educational. Try to cook a meal or a dessert with what's already in the house. It can be a challenge, but you can teach your grandchild some new skills about cooking and being resourceful.
Make tin foil dinners
What's not fun about eating something you cooked over a fire? You may be surprised at what your grandchildren will eat when they had a hand in cooking it themselves. For some added adventure, go to a beach, lake or the mountains to cook your meal.
Go to an escape room together
This is an activity for older grandchildren.  If you don't know what these are, look them up on google. If you and your grandchild like solving puzzles or mysteries, this will be a great activity. Be careful about the age(s) and aware of the jumpiness of the child(ren) you have with you. These can be a bit intense!
Do a Facebook Live!
Okay, so you may need your grandchild to take the lead on this one, but it can be fun to do a Facebook Live event for your family. This can be in the form of your grandchild doing a silly (or serious) interview asking questions about your childhood or early dating life. It can look like the two of you showing off a new skill that you have learned together. Or cooking something up in the kitchen together. Whatever you do, it can be preserved by social media and will be a great memory.
Create an "Add-on" story
This is especially fun for those early readers who have learned to write. You start a story either with a few words or partial pictures. Then hand the paper to your grandchild and they have to continue the story where you left off. Then, they stop and let you continue. Do this as long as it holds their attention. Don't worry about spelling, this is sometimes the most fun part! I love to decipher my Littles' writings. These papers are some of my most precious treasures!
Make cookies together and teach how to follow a recipe
Reading and following a recipe is fast becoming a lost art. I am surprised by the fact that my grandchildren don't know how to follow a recipe. This is a great way to pass on a favorite family dish or dessert. . .and an essential skill.
Read a chapter book together
My grandsons and I love to do this. It has taken a long time to get through a book but something that they really look forward to when they come over. We are currently tackling a series of books. I hope they never outgrow this, because I may enjoy this almost more than they do! When my 11-year-old grandson will still curl up on the couch next to me as I read, that's a real win!
Tie a quilt and donate it
Tying a quilt is not as hard as it may seem. If you are familiar with quilting, this can be a really fun project. Quilts can be donated in many places. Check with the organization before you begin this project to make sure your quilt meets size and construction requirements.
Visit a cemetery where family members are buried
This may seem a bit macabre, but it's an activity that some families really cherish. Go to a cemetery on a holiday or special event day (like a deceased relative's birthday) and tell stories that you know about that person. You don't even have to wait for a special day to do this. Keep your loved one alive in the memories of your grandchildren.
Go geocaching
Don't know what geocaching is? Take a look at this explanation. It's an outdoor treasure hunt and a fun way to explore your local area. All you need is a free account at geocaching.com and a smart phone. There are a few rules of respect concerning finding the treasures; so read up about it before you go.
Create a new game together
This can be a board, card, dice or outdoor game. My Littles are very creative and love making up new games to play. It's a great way to teach them about rules that make sense and teaching others how to follow the rules to their game.
Build something together
Our Papa loves working with wood! He loves building pinewood derby cars with our Littles who are in cub scouts. This doesn't have be woodworking, it can be anything from a kite to a tower out of blocks. Just create together!
Paint ceramics together
This activity can be a bit pricey, but can be a fun night out with the grandkids. We have a few of those "paint your own pottery" places near our home. It's great fun and lends itself to lots of talking time. You can take your grandchild there to make a gift for their mom or dad – BONUS!
Build a "fort"
I'm not sure if there is a more requested playtime than building a "fort." It's easy and creative! Just get out some chairs and blankets – a table to hide under is a bonus. The living room ceiling in the limit!
Tour a local police or fire station
Call your local station and see if they will do a tour for you and your grandkids. If they are not busy, they will love to have you. You may have to schedule it in advance and be prepared if something comes up for them. It's a great way to help your grandkids develop a respect for community helpers.
Have a dessert cookoff
Imagine the show Chopped or Cupcake Wars in your kitchen with your grandchildren as the contestants. They will have fun competing with each other. You can be the judge or just the moderator and let someone else judge. Teaching them about healthy competition is a great gift to give your grandchildren. (Oh, and don't forget about teaching them the finer art of clean up!)
Pull out some brain teaser puzzles
I've mentioned many times that my Littles LOVE puzzles! Brain teasers are something that you can find in abundance on the internet and that you can work on together. Teaching the kids to be problem solvers without electronics or the internet will go a long way in helping them develop into productive adults.
Make your own smoothie creations
This is a great way to teach your grandchildren about nutrition. Plus the "yum" factor is a definite bonus!!
Get out the Sunday crossword puzzle (newspaper or online)
You can print out two of these if you want to compete or just work on it together.
Go on a bike ride
I think this one is self-explanatory. Just make sure your grandchild is familiar with the route, rules of the road, and wears necessary safety gear. Find a destination and have a picnic.
Visit an aquarium
This one is obviously subject to availability and transportation needs. For us, who don't live near a beach, this one is especially fun and makes us feel part of that ocean community that we miss out on. The best value is usually to check out grandparent passes. Usually, the kids are free if you have a pass!
Go to a nature preserve
If you are lucky enough to be close to a nature preserve, there is so much to be learned there. Often the landscape is changing so there is always more to learn and see each time you go. There's just something about being out in nature to make you feel closer to God and each other.
Build a Lego set together
Building Legos is my grandsons' favorite pastime! Without exception, they love to show me how to build their sets. I'm lucky if I get to "free build" anything that I might imagine. . .well, maybe that's because I don't have much of an imagination when it comes to Legos. 😉
Draw your favorite animated character
It's fun and easier than you think. You and your grandchild need to pick your favorite animated characters. Then google "how to draw (and the name of the character)." No doubt there will be a YouTube tutorial that you can follow.
Make and decorate cupcakes
Cupcakes are easy and fast to make. Decorating them can be so much fun! The next time you are asked to help with cupcakes for any occasion, let the grandkids help! Or if you want to just make them for fun, make several and deliver them to neighbors just for some good will.
Take an alphabet walk
This can be super fun for your early readers or preschool grandchildren. All you do is take a walk around the neighborhood, and starting at the beginning, find an object that begins with A, then B, and so on until you reach Z. The kids have a huge sense of accomplishment and you all get a little exercise.
Make a fairy garden
This is one activity that, admittedly, I have not done yet with the Littles. However, this was my granddaughter's idea and she has been bugging me to do one with her. They are very popular right now, and there are a lot of ideas online. Basically, you plant some small plants in a pot or an outdoor space and place some miniature items within the "scene" like houses, fences, furniture, ladders, etc. It's a magical activity!
Attend a play at a children's theater or school
Attending a play with small children is an iffy proposition. It is hard to hold their attention and often you end up missing half the play if the kids won't sit still. However, children's theater often will keep the kids' attention because they are geared towards children and tend to be shorter. If you have teenage grandchildren, I suggest taking them to the local theater for a professional performance at least once. It's something they may miss out on if they don't have that first experience.
Play Head's Up & make a video
My Littles love the game Head's Up! It's a game you can download on your phone and play anywhere. We love to use it when we are waiting in long lines (like at Disneyland) or waiting for a parade to start. The game has the option to make a video of the players as they are "acting" out the clues, and then sharing it on Facebook or other social media.
Watch a military ceremony on a military holiday
I know this may seem boring, but I think we are missing so much patriotism these days. Going to a military ceremony or a morning flag-raising can really boost your grandchildren's respect and love for the country and freedoms you enjoy. Help them learn not to take this for granted.
Go garage sale hunting
Okay, a word of caution about this one: Make the kids bring their own money! They will literally nickel and dime you to death. However, it is fun to have a companion that likes to look as much as I do. Whether you are looking for something specific or just browsing, it's a great way to spend time with your grandkids.
Participate in a Home Depot workshop for kids
These are really fun! It's a great way to get your grandchild out of the house, spend some time with them, and for them (and maybe you) to learn something new. Home Depot does them on a regular basis, and the kids usually really love this! If you don't have a Home Depot near you, maybe you could check out a home improvement store near you to see if they have any classes for kids.
Make freezer jam
This is super easy and doesn't take a lot of experience or skill to master. Freezer jam is much easier to make than regular canned jams. There are so many tutorials online. Just pick your favorite fruit and make a batch in a just an hour or less.
Go to the library and read books there
Let your grandkids pick out 2 or 3 books from the shelves – books that they may not have at home. Then find a cozy place to curl up and read to them. The fun part of this is that you can visit several different libraries because you don't need a membership if you aren't checking out the books. Another bonus is that you don't have to remember to bring the books back.
Color together
I'm so glad to see this art coming back. I loved to color as a kid and now it's cool to color as an adult. There are so many options! My granddaughter had a grandmother (the other one, not me) who got down on the floor and colored with her. She did this from the time she was just little (like about 1 year old). Not only did my granddaughter turn out to be able to color INSIDE the lines by the time she was 18 months old, but that grandmother passed away unexpectedly and that is a sweet memory that my granddaughter has with her grandmother. I am grateful to her for her example to me.
Burn a CD of your favorite songs
Make a playlist of your favorite songs. Have your grandchild do the same. Make separate CD's or make one playlist with both of your favorites on there. It's fun to share!
Tell jokes
Okay, so I have grandsons, and they love silly, bodily-function jokes. I can't help but laugh. I try to make sure that the language stays appropriate, but other than that, we just let loose. One of the favorite things to do is to sit on the trampoline, eat Laffy Taffy, and tell jokes. I love to have some jokes in my repertoire for when I just want to be silly with the kids.
Make a fruit pizza
Some sugar cookie dough, cream cheese frosting, and fruit. . .and voila! You have a yummy treat that's a little bit healthy too. 😉
Blow giant bubbles with string
My little Littles love to blow bubbles. They love to do giant bubbles even more! Here is Jackie from Happy Hooligans to show you how to make great bubble "juice" and super simple homemade bubble wands.
Participate in a flag retirement ceremony
This is a very special and emotional experience. I did not realize how deeply I felt for our country's flag and what it stands for until I attended my first flag retirement ceremony. I really want my grandchildren to experience this also. Our local VFW and the local boy scout troop have both done these types of ceremonies. This is something that everyone should do sometime in their life. You will be better off for the experience.
Visit a farmer's market
These are only around in the summer and fall in our neck of the woods, but they go all throughout both seasons. The Littles have learned so much about where their food comes from and how things are made. We get fresh goods and get to visit with local craftsmen there.
Go to a bookstore and pick out a book for each other
Picking out books for each other might really be an interesting proposition. It is kind of fun to see what the other person thinks you are interested in. Of course, my grandkids always pick out some kind of crafting book for me – usually quilts.
Tour a candy factory
We have a local candy factory. A candy factory is such a wonderful playground for kids and often they have big windows so the kids can see the decorating or candy making process in action. I have to admit that I really like it too!
Have an indoor treasure hunt
My Littles are clamoring for me to do a treasure hunt for them. We do this on Easter of course, but they want an all-out bona-fide treasure hunt. We will be doing this on the first day of Camp NanaPapa this year. You can make this as elaborate or simple as you would like. It also makes for a great rainy-day activity.
Make potato stamps & stamp cards
Kids love to make potato stamps. They are easy and lots of fun to make! If you have a "stamp" cookie cutter, it is super easy. Here is a great tutorial if you need one from The Best Ideas for Kids. Make cards for birthdays or holidays from your stamps. The kids would be quite proud to give others their homemade cards.
Set up a small-car race track with masking tape
To set up a race track for small cars (such as Matchbox or HotWheels), you just need a roll of masking tape and imagination. Run the masking tape on the floor wherever you want the outside of the track to go and then run it back for the other side of the track. You can put little dashed lines down the middle if you want, but not necessary. This goes a long way helping the little ones with spatial awareness.
Make rain sticks & learn about South American culture
It is always good to learn about different cultures and peoples. But making rain sticks and learning about the culture makes it more fun. They're super easy to make and you probably already have all the necessary materials around your house. The grandkids will love these! The best part is that you can send the "noisemaker" home with the kids when you are done! 😉
Make & fly kites
Yes, you can buy kites pretty cheap these days, and certainly, that is an alternative. However, it is more challenging to make them yourself. There are some dynamics that you might want to research a bit online like how long the tail should and which shapes fly better than others. It's okay to fail as long as you have fun with the grandkids doing it. Think: Mary Poppins!!
Draw sidewalk murals with chalk
I suppose you could hold hands and try to jump into the pictures once you're done, but I would suggest just admiring them and take pictures of the ones you want to "keep." As a matter of fact, why not draw a hopscotch on the sidewalk and teach the grandkids how to play.
Go to a cultural event
This is a great way to expose your grandkids to people of other cultures. Personally, I love seeing dances, costumes and hearing music from places other than from my own neck of the woods. Learning about others breaks down those barriers that seem to separate us as human beings. And. . . teaching your grandkids respect for others is extremely valuable.
Find a splash pad
This is self-explanatory. Just find one and be a kid again! The grandkids will love having you there with them and you will probably really enjoy getting cooled off.
Visit a historical site or famous statue
In almost every state, there are historical people and places that you can learn about. If there isn't a statue or historical site close by, look for a memorial of some sort. I discovered only a few years ago that my small town has its own little museum. Who knew??
Build a snowman or sandman
Depending on the weather or where you live, build a snowman or sandman together. Make sure you have hats, glasses, noses, etc. Get these things from a thrift store if you don't want to leave your good ones out in the weather. For an added measure of fun, go out after the kids are asleep and move the snowmen. Have you read Snowmen at Night?? Yeah, it really messes with them. It is tons of fun!! Take pictures and send them to the grandkids the next morning.
Make up stories with shadow puppets
Again, tons of resources on Google for how to do these. Practice making the shadow puppets with the grandkids and then make up stories about them.  Another great rainy-day activity.
Make play dough
If you look, there are lots of different recipes on how to make homemade play dough. I like the homemade stuff best because I am not afraid if the kids put it in their mouths. Pull out the cookie cutters and go to town! My granddaughter really likes to make play food from play dough and "serve it up" restaurant style.
Make some homemade pizza together
One of the easiest ways to do this is with English muffins. Just split them in half and you have an instant pizza crust. We just load them up with pizza sauce, cheese, pepperoni and whatever else you want, and pop them in the oven on 375 degrees for about 10 minutes. Easy peasy!!
Play a board game from when you were a kid
Try to find a board game from when you were a kid that is still around. You will be amazed at how young it makes you feel! It is fun to introduce your grandkids to a game that they aren't familiar with. Likely, they think you grew up in the dinosaur age and didn't have anything but rocks and sticks to play with. They grow a connection with you when they learn that you grew up with things that are still available today.
Make a bird feeder
Again. . .ask Google for what kind of bird feeder attracts which kinds of birds. This probably depends on where you live. However, you can usually make something with things that you already have on hand. We inadvertently attracted a woodpecker that kept pecking the side of my house. Well, my one grandson was completely obsessed with trying figure out how to discourage the woodpecker from pecking my house. So, I guess you could go that route as well! Whatever works! 😉
Make multi-colored crayons from old, broken ones
Martha Stewart has a great "recipe" for taking old crayons and making them into some fun multi-colored shapes to color with. I have a ton of broken crayons from the years of buying them for the grandkids to use. Might as well put them to good use, right?
Go to a children's museum
I hope you have a children's museum near your home. These museums are so much fun! We keep annual passes to our local children's discovery museum. Papa and I get in free as well as all the Littles. Then, the adult passes are just ½ price after that. It is so worth it to keep an annual pass. This is hours of fun and discovery for both us and the grandkids!
Become penpals to each other
This works great with grandkids in other states, other countries, or just around the block. Kids love to get mail. . .especially from grandma and grandpa. This encourages their writing skills and gets you great entertainment! The letters that I get that have all the phonetically sounded out words and the darling pictures where I have a small head and big feet make me smile for hours. They are cherished pages in my grandma book.
Go to a baseball game (or other spor)
Go to a professional game or a local high school or college game, but make sure you get peanuts and popcorn. Since we don't have a professional baseball team in our area, we like to take the kids to our local MLS team games. They all play soccer, so it's fun to watch. Even if the kids don't necessarily like a certain sport, it's just fun to be on a real outing and get treats with the grandparents.
Visit a planetarium
Kids are fascinated by space and the stars. It is a place of fun discovery! We did one better and got our grandkids a real telescope. They can't wait to let me look through the lens when they discover a new star or constellation. Whether they visit a planetarium or look through a telescope, it will give them a sense of wonder and give you an opportunity to express to them how special they are in this wide universe of ours.
Play flashlight tag
Of course, this is a nighttime game that is fun when you are camping or in the backyard. It just needs to be pretty dark to play. Same rules as regular tag except the person who is "it" can "tag" you with the beam of the flashlight instead of touching you. So, it's a bit harder since the "it" person can tag you from far away. This game is a bit easier for grandparents since you don't have to catch the kids, hence a bit less running around. Just make sure that the area you decide to play in is safe from hazards.
Make paper airplanes and have a distance contest
Again, pretty self-explanatory. You can google how to make paper airplanes if you are not sure. I just can't seem to win at this one. My grandsons kick my behind in this every time!!
Have an indoor picnic
Self-explanatory. Our favorite indoor picnics happen in the winter by the fire in our family room. I simply spread out a sheet so that little spills are caught and it's easy clean up.
Make an I Spy bag
These can be easy to make just out of a Ziploc bag. However, if you want something a bit more permanent, I suggest the pencil pouches with a plastic "window" or the see-through ones. These are a bit more sturdy. Just get some rice and put little treasures from around the house inside – things like army men, jacks, small party favors, old pieces of jewelry, buttons, beads, coins, paper clips, rubber bands, mini clothespin, or just anything that is small. Make a list of the things that the kids are looking for. This is a great option to take when you have to entertain the grandkids while they wait somewhere.
Finger or hand play
This is obviously for smaller children. However, this kind of play with the kids is so good for their little minds and bodies. It is also some of the best bonding you can do. My own children remember sitting on their grandmother's lap as little ones and she did the "Tommy Whoops!" over and over on their little fingers. That is a cherished memory for each of them even now that they are grown.
Play a card game
We have found some great card games with just regular playing cards that are easy to play with the Littles. One of our favorites is a game that we learned as "10". I don't know if it has another name, but I can't find rules on the internet for it. Maybe we will have to make a video at some point. Anyway, simple card games often employ math skills, strategy skills, or just plain sportsmanship skills. The grandkids will love it if you take time from your busy schedule to play with them.
Decorate for an upcoming holiday
Decorating for the holidays is sometimes a chore. However, the grandkids love it! So, Papa and I employ our happy little helpers with putting up Christmas lights, decorating the Christmas tree, hiding Easter eggs, and the like. They work cheap (usually for cookies) and love spending time with us.
Work together
I know this sounds like you are going to get a lot of flack for this, but working side by side is one of the greatest gifts you can give your grandchildren. We work a lot around our house with the Littles. They help with planting and weeding the garden, doing dishes, cleaning the play room, and helping around the holidays. Kids hate to work, but if they can spend quality time with their grandparents, it doesn't feel so much like work. . .and they seem to give us a lot less heartburn about it than they do their parents.
I hope that gives you at least a few ideas of what to do with your grandkids . . . or at least it should get your creative juices flowing to come up with something fun on your own!
Cookies & Milk for Everyone!